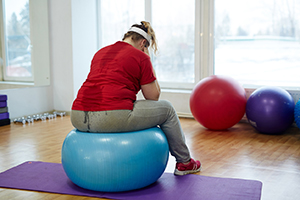 We all know that exercising is key to maximizing your weight loss after bariatric surgery, but exercise is also good for other things. Adding lean muscle means your body will burn more calories even when it's at rest. It can also reduce your risk of chronic diseases, like high blood pressure, heart disease, and type 2 diabetes. Exercise can improve your energy levels, reduce your stress levels, improve the quality of your sleep, and improve your mood. It's pretty much the magic pill everyone wished they could take. But, you have to do it in order to reap the benefits.
Social media is littered with posts about exercising at a gym. But, going to the gym can be a real hurdle for people who aren't used to exercising. You have to find the time to go, fit it in around your work schedule, school drop off, grocery shopping, and everything else you have going on in your life after gastric sleeve, gastric bypass, or lap band surgery. For those who can't seem to fit the gym into your schedules, how can you fit exercise into your lifestyle? One answer is: at home exercises.
You can do them, day or night, rain or shine, when the kids are sleeping, or when dinner is in the oven. You also have such a variety of exercises to choose from that most people can find something they like to do. We gathered up a few choices to help get you started:
Stationary bike
Treadmill
Jump rope
Pilates
Yoga
Body weight strength training
Water aerobics in your pool
Videos or on demand programs
Apps (like C25K)
Do not start exercising until you've gotten the 'go ahead' from your surgeon after gastric sleeve, gastric bypass, or lap band surgery. Once you've been cleared to begin exercising, chose an exercise program that you can and will consistently do. It may take time to find the best fit, but if the gym isn't a good choice for you, spend some time to find the best at home exercise that meets your fitness level, needs, and preferences. And feel free to change it up to prevent boredom and to make sure you are working all of your major muscles groups and get your heart pumping.
The above are suggestions offered by Dr. Shillingford, MD, PA, a board certified surgeon specializing in advanced laparoscopic and bariatric surgery. His gastric sleeve, gastric bypass, and gastric band patients continue to be an inspiring group of people from all over Florida, including Boca Raton, Miami, Orlando, Jacksonville, and West Palm Beach. Whether you choose to work out in a gym or at home, make an effort to incorporate exercise into your post bariatric surgery lifestyle. It will not only help with your weight loss efforts, but help you in many other ways, such as improving your health, happiness, and sleep.