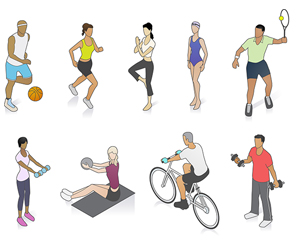 We all know physical activity promotes health and longevity. Exercise helps reduce heart disease, certain types of cancer, type 2 diabetes, as well as the overall risk of death. Yet 5 million deaths a year can be attributed to insufficient physical activity.
In order to promote health, the World Health Organization (WHO) recommends adults engage in 150 minutes of physical activity a week. But, is all activity created equal? Does participation in different sports affect your health differently? The answer seems to be 'yes.'
Overall, people who regularly engage in moderate-intense physical activity have a 34% reduction in mortality than those who do not normally exercise. But, that is a generic number that can't be applied equally to all forms of physical activity. A closer look into specific sports disciplines seems to have some interesting statistics. One study analyzed the reduction in risk of death by sports category: aerobics reduced the risk by 27%, cycling 15%, racquet sports 47%, and swimming 28%. Although soccer showed an 18% reduction and running a 13% reduction, the data did not allow the results to be interpreted across the whole population, though other studies do suggest benefits to both soccer and running.
So, what does all of this mean for gastric sleeve, gastric band, and gastric bypass patients? This is further evidence that physical activity is essential not only for weight loss, but for overall health and longevity. Once you have been cleared by Dr. Shillingford, exercise should be incorporated into your new lifestyle. Which activity should you choose? That's up to you.
Racquet sports may seem to produce the largest reduction in death, but if you don't like tennis or racquetball, chances are you won't play it routinely. Choose an activity that you actually enjoy and stick with it for your best results.
Luckily, Florida is a state that seems to encourage both outdoor and indoor activity. Florida is home to miles and miles of coastline, which makes swimming easily accessible and possible for many months out of the year. Both outdoor and indoor pools are also common. Many roads and parks have paved footpaths for running and walking. Bike lanes are common along many major Florida roads, which makes cycling easier and safer. Many town parks and neighborhood community centers offer tennis courts. While the heat in the summer may hamper daytime tennis, the courts are often lit so you can play when it's cooler. Many local cities, like Boca Raton, offer adult sports (like soccer) and a variety of aerobic activities to residents at a reduced cost. Check your city's websites for the complete list of sports activities offered to see which one best suits your personality and get out there and play!
The above is offered by Dr. Shillingford, M.D, P.A., a board certified surgeon specializing in bariatric surgery. Dr. Shillingford performs gastric sleeve, gastric bypass, and gastric band surgery at one of South Florida's few hospitals designated as a Center of Excellence for Bariatric Surgery by the American Society for Bariatric Surgery. Some of his patients come from local areas, such as Miami, Fort Lauderdale, and Delray Beach, but his reputation and skill also attract patients from as far away as Orlando, Jacksonville, Georgia, Texas, Ohio, New York, Hawaii, and the Bahamas. Dr. Shillingford encourages all of his gastric sleeve, gastric bypass, and gastric band patients to incorporate physical activity into their lives.