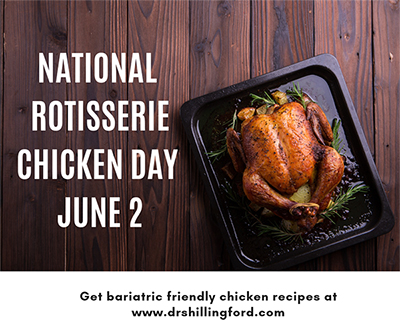 National Rotisserie Chicken Day is coming June 2 and it's got us wondering why we don't celebrate this day more often than once a year?!?! Rotisserie chicken is packed with high quality protein, is inexpensive, easy to pick up for dinner, and so versatile. It's a staple in the diets of many post bariatric patients for good reason. One rotisserie chicken can lead to a variety of breakfasts, lunches, and dinners for gastric sleeve, gastric bypass, and lap band patients. Even though they might be eating the same food, it doesn't have to taste the same at all. Rotisserie chicken can pair with eggs for breakfast, salad for lunch, and something hot for dinner and not be boring at all.
With variety in mind, we've gathered up some past chicken recipes we've posted that rotisserie chicken can easily fit in to. Some recipes may call for raw chicken, but you can easily adjust the directions (and save yourself some time) by substituting precooked rotisserie chicken. It's very important to note that not all recipes we've gathered are good for gastric sleeve, gastric bypass, or gastric band patients in the beginning stages of their post bariatric surgery diet. Use Dr. Shillingford's post op diet guidelines to see which recipes fit your current stage. Some recipes will be best for those who have past their one year surgical anniversary or have met their weight loss goal. Some can be adjusted to meet the guidelines for those still in the earlier stages. Some of you may still be in the puree stage, that's ok, just bookmark these recipes to try in the future when you are able to have regular textured chicken.
It's important not to rush into eating chicken, especially chicken breast, too early after weight loss surgery. If it's too early or the chicken is too dry you could have trouble tolerating it. Follow Dr. Shillingford's and your bariatric dietitian's advice on when to start eating chicken. Many bariatric surgery patients find the monthly Nutrition Support Meetings very helpful in learning new information and getting their questions answered. These meetings are held in Dr. Shillingford's Boca Raton office, which is conveniently located for patients who come from nearby Miami, Fort Lauderdale, Coral Springs, Wellington, Delray Beach, and even West Palm Beach. For Dr. Shillingford's weight loss surgery patients who traveled for their surgery, Dr. Shillingford now offers a free online support group also.