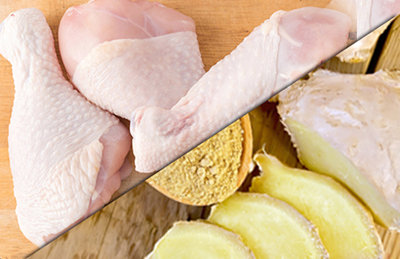 Ginger is widely regarded as a calming flavor, helping to quell nausea and stave away vomiting. Unfortunately, gastric sleeve, gastric bypass, and lap band patients often experience some episodes of nausea or an upset stomach after their weight loss surgery. Having an upset stomach can make it difficult for bariatric patients to ingest their required 64 ounces of fluids and their daily protein allotment. Consuming enough liquids and protein is extremely important to prevent dehydration and maintain health.
When bariatric patients do have an upset stomach, ginger may be helpful in easing the upset. One soup combines the benefits of ginger with the protein of chicken to help bariatric patients relieve stomach upset, provide fluids, and add protein: Cleansing Chicken-Ginger Soup. It's simple enough to be tolerated by an upset stomach. And for when your stomach feels good, simply add extra vegetables to add fiber and nutrients to your diet.
Lap band (or gastric band as it's also known) patients are encouraged to stay away from soup due to the anatomy of their pouch. But, the broth of this soup can be had separately from the chicken if the ginger chicken broth is helpful in providing stomach relief.
This recipe should be tried only by bariatric surgery patients who have moved up in Dr. Shillingford's post bariatric surgery dietary stages to tolerate whole foods, like chicken. For many, the dark meat chicken is more easily tolerated than chicken breast due to the natural moistness of the darker meat. For those in the pureed or soft stages, the soup could be pureed to an acceptable texture. And for those gastric sleeve and gastric bypass patients who tolerate whole foods including vegetables, consider adding low carbohydrate vegetables like: bean sprouts, mushrooms, green beans, broccoli, green onions, or diced peppers. Adding vegetables will add flavor, but also fiber, and a variety of vitamins and minerals.
Cleansing Chicken-Ginger Soup
Directions:
Combine onion, celery, ginger, garlic, and peppercorns in a large heavy pot. Add chicken, placing breasts on top. Add 6 quarts of water, bring to a boil over medium-high heat. Cover with lid slightly ajar. Once boiling, reduce heat to low; simmer until chicken breasts are just cooked through, about 30 minutes. Transfer chicken to a plate, let cool, cover and chill. Continue to simmer soup, uncovered, until broth is fully flavored, for about 2 ½ hours longer. Return chicken to soup to rewarm, about 5 minutes. Remove chicken from broth. When cool enough to handle, coarsely shred meat, discard skin and bones. Place a fine mesh sieve over another large pot and strain broth, discarding solids in strainer (producing about 8 cups of broth). Season with salt to taste. Add chicken to bowl and top with warmed broth. Garnish with cilantro if desired. [If you choose to add vegetables, add them toward the end to give them enough time to get tender without overcooking.]
This recipe suggestion is offered by Dr. Shillingford, MD, PA, a Florida based bariatric surgeon specializing in gastric sleeve, gastric bypass, gastric band, and revisional surgery, as well as general surgery. His weight loss patients receive top notch care at Northwest Medical Center's Center of Excellence in Bariatric Surgery, as well as follow up appointments in his Boca Raton office. Dr. Shillingford's weight loss surgery patients often come from surrounding areas like Miami, Fort Lauderdale, and Coral Springs, but also from farther distances such as Orlando, Jacksonville, and even Atlanta. Dr. Shillingford encourages all of his bariatric patients to call his office at (561) 483-8840 when they experience any negative side effects after their surgery, but for simple upset stomach, ginger may be helpful. If you are considering gastric sleeve, gastric bypass, or lap band surgery, call Dr. Shillingford today at (561) 483-8840 to schedule an appointment. For more information about the benefits of ginger, check out Dr. Shillingford's Food Highlight: Ginger.
1 onion, sliced
2 celery stalks, chopped
8 ounces unpeeled scrubbed ginger, cut into ½ inch thick slices
10 whole black peppercorns
3 pound organic chicken (cut into 7 pieces- 2 breasts, 2 legs/thighs, 2 wings, 1 back)
Kosher salt
Optional cilantro