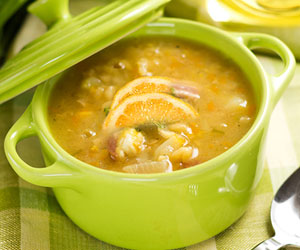 Some of our blog readers may have read Food Highlight: Cabbage and thought of cole slaw. While cole slaw is certainly the one cabbage dish that leads cabbage to being the tenth most commonly consumed vegetable in America, it definitely isn't the healthiest way to eat this otherwise very healthy vegetable.
Another very delicious way to eat cabbage is in soup. While soup is not recommended for lap band patients, gastric sleeve and gastric bypass patients can enjoy the comfort food. Boiling cabbage in soup helps make it taste sweeter and softens the leaves. Adding cabbage to your soup is a good way to add bulk without adding a ton of calories. One cup of shredded raw cabbage provides less than 40 calories, all while contributing an impressive amount of antioxidants and anti-inflammatory compounds. This is ideal for bariatric surgery patients as they reap the weight loss benefits of feeling full while consuming a small amount of calories.
This soup has only a few ingredients, so it's likely you'll have everything you need on hand already. Plus, it makes great use out of leftover chicken. You can choose to add a grain, or leave the grain out completely without changing the overall integrity of the soup. Brown rice is a good choice to add as it lends a earthy flavor and a toothsome texture. Another good choice is quinoa. Quinoa adds extra protein and fiber, as well as a diverse range of anti-inflammatory nutrients.
This soup makes a great dinner, but also reheats easily for a quick lunch at home or at the office. If you have a lot of extras, you can also freeze it for future use when you want a healthy dinner but don't have the time to prepare one.
Lemony Chicken and Cabbage Soup
8 cups chicken broth
1 large onion, sliced
4 cups green cabbage, chopped
2 cups cooked, chopped chicken
2 lemon slices
Pinch of cayenne pepper
1 cup brown rice or quinoa (if desired), cooked to package directions
Salt and pepper
Directions:
Bring broth to a boil in a large pot.
Add onion, cabbage, salt, and pepper. Reduce heat and simmer for 10 minutes.
Add cooked chicken and cayenne and cook for an additional 5 minutes.
Add lemon and remove from heat. Adjust for salt and pepper.
If you choose to add brown rice or quinoa, add it to your soup bowl and ladle soup on top.
The above meal suggestion is offered by Dr. Shillingford, M.D., P.A., a board certified surgeon specializing in advanced laparoscopic and obesity surgery. Many of Dr. Shillingford's bariatric patients come to Boca Raton for his expertise in delivering high quality surgical services at affordable self pay prices. Dr. Shillingford performs most of his gastric sleeve, gastric bypass, and lap band surgeries at Northwest Medical Center's Bariatric Center of Excellence where Dr. Shillingford serves as Program Medical Director. His bariatric weight loss patients often come from Miami, Wellington, Orlando, Jacksonville, Sarasota, and Tampa for his exceptional services. Dr. Shillingford's gastric sleeve, gastric bypass, and lap band patients are often looking for high protein recipes to help them meet their daily protein requirements. This soup provides protein in a small amount of calories, and also makes a great grab and go container to bring to work, or a quick meal to pull out of the freezer for dinner when you don't have time to cook.