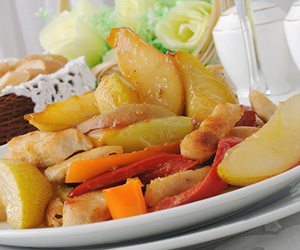 Now here is a recipe that tastes good, is high in protein, and can satisfy the whole family. The trick? Adding fresh apple and dried cranberries to the chicken salad. This recipe would work well for dinner on a hot night, a picnic at the beach or ballfield, or lunch on the weekend, at work, or even in a lunchbox.
At approximately 220 calories, 5 g fat, 13 g carbohydrates, 2 g fiber, and 28 g protein per 1 cup serving, this recipe packs a lot of protein. While other family members may like this as a sandwich or wrap, bariatric patients are encouraged to eat their protein before their carbohydrates in order to ensure they receive enough protein to stay healthy and prevent muscle loss. One option for gastric sleeve, gastric bypass, and lap band patients is to leave out the celery, and instead cut it into spears and use it to scoop up the chicken salad. Lettuce can also be substituted for a wrap, or cucumber slices substituted for crackers to reduce both carbohydrates and calories to promote weight loss after bariatric surgery.
Light and Sweet Chicken Salad
Adapted from: Simple Nourished Living
2 ½ cup chopped cooked chicken
3 stalks celery, chopped
1 cup chopped apple (about 1 large apple)
¼ cup dried cranberries
½ cup nonfat plain Greek yogurt
2 tbsp light mayonnaise
2 tsp lemon juice
Salt and pepper to taste
Instructions:
Place chicken, celery, apple, and cranberries in a bowl and stir to combine.
In a separate bowl, stir together yogurt, mayo, and lemon juice.
Add dressing to chicken mixture and stir well to combine.
Season with salt and pepper.
The above recipe is offered by Dr. Shillingford, M.D., P.A., a board certified surgeon specializing in laparoscopic and obesity surgery. Dr. Shillingford's gastric sleeve, gastric bypass, and adjustable lap band patients come from all over Florida for his services, including locally from Boca Raton, Delray Beach, Fort Lauderdale, Miami, and as far as Tampa, Orlando, and Jacksonville and everywhere in between. Dr. Shillingford's bariatric patients often seek high protein recipes that the whole family will like, and this chicken salad recipe is a great choice.