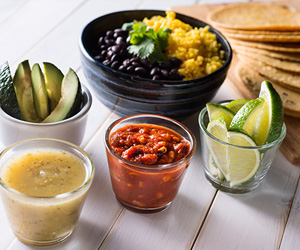 Snacking is important for bariatric patients. Since their stomach size is reduced, surgical weight loss patients can not get all of their calories, protein, vitamins, and minerals in 3 small meals a day. Healthy snacks are key to meeting protein and nutrient needs.
A handful of pretzels or chips and dip will no longer suffice as snack. Instead, snacks after bariatric surgery should contribute toward overall health. This quick black bean dip gives you the same chip and dip feel, but it's higher in protein, fiber, vitamins and minerals than traditional dip. Instead of pretzels or chips, bariatric patients can scoop their dip with raw veggies like carrots, celery, or fresh pepper slices to reduce their carbohydrate and fat intake and increase their nutrients and fiber intake. Gastric sleeve, gastric bypass, and gastric band patients can still stay within their calorie limits and continue to lose weight when incorporating low calorie, high protein, high fiber snacks into their post bariatric surgery diet.
This dip is quick and easy to make, and works well for snacks or an appetizer to bring for a celebration. If you aren't a fan of cilantro, feel free to leave it out. If you are a fan of avocado, you can dice it and sprinkle it on top or mix it in. If you like smoky flavor of chipotle, add a dash of chipotle powder to the dip.
5 Minute Black Bean Dip
1 can black beans, drained and rinsed
1/2 cup salsa (choose your favorite brand)
2 cloves garlic, minced
1 tsp fresh lime juice
½ tsp ground cumin
1 oz minced cilantro
Instructions:
In a food processor, puree black beans, salsa, garlic, lime juice, and cumin until smooth.
Add cilantro and pulse until combined.
Adjust any spices for flavor.
Serve with vegetables for a great snack.
The above is offered by Dr. Shillingford, M.D., P.A., a board certified surgeon specializing in laparoscopic and bariatric surgery. Dr. Shillingford's gastric sleeve, gastric bypass, and gastric band patients come from all over South Florida for his services, including Boca Raton, Delray Beach, West Palm Beach, Miami, and Fort Lauderdale, as well as Orlando, Tampa, and Jacksonville. Dr. Shillingford's bariatric patients are often seeking recipes for high protein snacks, and beans are a great choice.