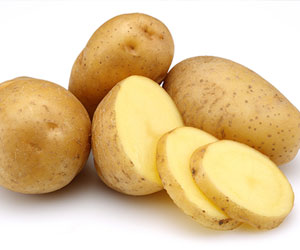 You say 'potato,' I say 'hey, potatoes can actually be good for you.'
Potatoes have been vilified in recent years as the low carb craze has taken over. But, do potatoes really deserve all the negativity? Not likely. It's more likely potatoes have been vilified based on how we like to cook and eat them.
A medium sized baked or boiled potato has about 160 calories (about the same as 2 slices of white bread). But unlike white bread, the potato is relatively unprocessed. It's also packed with nutrition.
Let's review:
164 calories, 0 grams fat, 37 grams carbohydrates, 4 grams fiber, and 4 grams protein
Over 50% DV vitamin C, 9 % iron, 30% B6, 12% magnesium 25% potassium (plus smaller amounts of phosphorus, choline, niacin, and zinc)
Only 13 grams sodium
This nutrition profile makes the plain potato seem like a rockstar in the arenas of bone health, improving blood pressure, heart health, aiding bowel regularity, and satiety.
So, why all the negativity around the potato? Potato chips, mayonnaise based potato salad, french fries, and fast food baked potatoes slathered in nacho cheese or sour cream can give us a peek into why potatoes likely got a bad rap.
But, can you fit potatoes into a healthy post gastric sleeve, gastric bypass, or lap band surgery diet and still achieve weight loss? We think so.
Consider eating only small to medium sized potatoes baked, boiled, or grilled. No giant potatoes the size of your hand. Let the potato be your source of carbohydrates for the meal, not in addition to something else like a bun, bread, rice, or pasta. We've got some ideas for how to incorporate potatoes into your weight loss diet without going overboard on calories or carbs:
Add some diced baked potato to your scrambled eggs
Cut a baked potato in half, scoop out some of the flesh inside to make a well, then spoon homemade chili into it
Add fingerling potatoes to a medley of garlicky green beans and cauliflower
Cut potato into rounds and bake until crispy, then top with BBQ pulled pork or chicken and green onions
The potato has been a dietary staple for literally thousands of years and spans multiple continents, it can't be all that bad. As with any food, portion control and cooking methods are key. This is especially true with incorporating potatoes into a post bariatric surgery diet. Don't fry it, instead bake or boil. Also, keep the potato small, and don't add any unnecessary high calorie toppings. By being mindful of these tips, potatoes can be incorporated into a weight loss diet.
The above suggestion is offered by Dr. Shillingford, M.D, P.A., a board certified surgeon specializing in laparoscopic bariatric surgery. Dr. Shillingford performs gastric sleeve, gastric bypass, and gastric band surgery at one of South Florida's few hospitals designated as a Center of Excellence for Bariatric Surgery by the American Society for Bariatric Surgery. Some of his patients come from local areas, such as Miami and Fort Lauderdale, but his reputation and skill also attract patients from as far away as Orlando, Jacksonville, Sarasota, Tampa, Fort Meyers, and Naples.