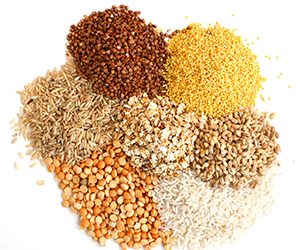 White bread and white rice have gotten a bad reputation in recent years for being less nutritious than their whole grain counterparts. Yet, the grocery aisles are filled with a wide selection of tempting white bread and white rice products begging the question: is whole grain really that much better for you?
The answer appears to be yes, yes, yes, resoundingly yes!
According to a meta-analysis of 45 published studies on whole grain consumption in relation to health and mortality, whole grains appear to have a significant benefit. Researchers found that consuming 3 servings of whole grains (90 grams of whole grain product) was associated with reductions in relative risk of coronary heart disease (19%), cardiovascular disease (22%), all cause mortality (17%), and mortality from stroke (14%), cancer (15%), respiratory disease (22%), infectious disease (26%), and diabetes (51%).
While it may not be best to advise bariatric patients to add in 3 additional servings of whole grains to their diets, we can suggest that gastric sleeve, gastric bypass, and lap band patients choose whole grains for at least half of their carbohydrates. For example, choose brown rice over white rice, whole grain bread over white bread, and cereal made from whole grains. These whole grain products should also be low in sugar. For example, a sugary whole grain cereal shouldn't be added in an attempt to get the benefit of whole grains. Other good choices for whole grains are quinoa, oats, barley, amaranth, buckwheat, bulgur, farro, freekeh, spelt, teff, and wild rice.
Another benefit to whole grains is their naturally higher fiber content. Because the whole grain includes the bran, germ, and endosperm, they include more fiber. Fiber is beneficial for bariatric patients because it helps keep you regular and it keeps you feeling fuller for longer, which can help reduce overall calories and promote weight loss.
The above is offered by Dr. Shillingford, M.D., P.A., a board certified general surgeon specializing in advanced laparoscopic and obesity surgery. Dr. Shillingford's surgical weight loss patients come from all over South Florida including Boca Raton, Delray Beach, Wellington, Miami, Tampa, Jacksonville, as well as from other states including New York, Hawaii, Texas, Ohio, and Minnesota. Whole grains can delicious as well as healthy, and evidence showing its benefit is overwhelming.