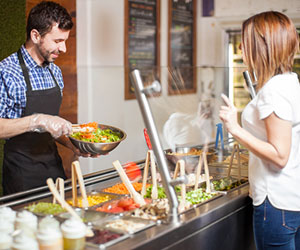 After gastric sleeve, gastric bypass, or lap band surgery, eating at home (or at least meals prepared at home) is ideal. You have control over the ingredients and the portions. You can add in only the ingredients that you are able to tolerate. You can take the time you need to chew your food adequately without feeling rushed. If you aren't able to finish, no one will question whether you liked your meal or feel insulted unnecessarily. Eating home prepared meals is one key to successful weight loss after sleeve gastrectomy, gastric bypass, or gastric band surgery.
But, it's inevitable that you will eat out after bariatric surgery. So, it's best to be prepared and arm yourself with the knowledge and tools you need to stick to your post bariatric surgery diet the best you can.
Know Before You Go
Check out the menu before going so you know that they offer something you can work with. Some restaurants may have calories listed for their meals or symbols indicating lower calorie options. If the restaurant doesn't seem to have anything for you or they seem overly strict about substitutions or alterations, consider switching eateries, if possible.
Order off the appetizer menu
An appetizer may be the perfect size for your smaller stomach, just stay away from fried options. Instead, focus your menu search on protein based options. Think ceviche, satays, mussels, chili with beans, or caprese salad.
Don't be afraid to ask for smaller portions
You can ask for smaller portions. Ask if an entree could be prepared in an appetizer sized portion. If they can't, ask the wait staff to box half the meal up or bring you a box with your meal so you won't be tempted to eat it all.
Drink water
Eating out isn't the time to sneak calories from drinks. You will likely be getting extra calories in your meal, so it's best to stick with water, and drink it in between meals. You can ask for a slice of lemon or lime in your water, and if you have to have something with flavor try unsweetened iced tea.
Ask to Swap
Sides of fries, pasta, or potatoes can often be switched just by asking. A simple garden salad, steamed veggies, coleslaw, or fruit would make easy swaps and better meal choices and can easily be accommodated at many restaurants.
Be wary of salads
Salad may sound like it's always a good choice, but often times it can be filled with high calorie toppings like fried chicken tenders, fried taco shell strips, fatty dressings, sugared nuts, or croutons. Read the ingredients carefully before making your menu selection.
These great tips are offered by Dr. Shillingford, MD, PA, a board certified surgeon specializing in bariatric surgery. Dr. Shillingford performs surgery in several hospitals in the South Florida area, making weight loss surgery convenient for overweight and obese patients in the Miami, West Palm Beach, and Boca Raton areas, as well as those who can easily travel to this highly accessible area from locations like Orlando, Jacksonville, Atlanta, New York, New Jersey, and Michigan. Dr. Shillingford's gastric sleeve, gastric bypass, and gastric band patients are frequently seeking information on healthy ways to eat out after bariatric surgery.