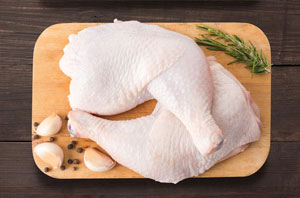 If you've read Dr. Shillingford's blog on chicken breast versus chicken thighs (if you haven't read it yet check it out here), hopefully you're ready to try a chicken thigh recipe. If you're in the stage of eating regular textured high protein meals, this chicken recipe is a good choice to try. Chicken thighs are often better tolerated in a post bariatric surgery diet than chicken breast.
For gastric sleeve, gastric bypass, and lap band patients, getting enough protein in their post bariatric surgery diet can be a challenge. The marinade for this recipe is made with greek yogurt, so it actually adds protein. Protein is especially important to bariatric surgery patients as it helps to prevent muscle loss while losing weight. Despite the low calorie diet that goes along with weight loss surgery, getting adequate protein is crucial for bariatric surgery patients.
This recipe offers a sweet and smoky flavor combined with flavorful chicken thighs. Many people find chicken thighs to be more flavorful than chicken breasts. Give them a try today!
Middle Eastern Marinated Chicken Thigh Kebabs
1 lb boneless, skinless chicken thighs
½ red pepper, cut into 1 inch pieces
Vegetable oil
Marinade:
½ cup low fat plain greek yogurt
2 teaspoons olive oil
1 tsp paprika
¼ tsp cumin
Dash of cinnamon
Dash of red pepper flakes
Juice from ½ lemon
2 cloves minced garlic
Salt and pepper to taste
Directions:
Mix up the marinade in a medium bowl.
Trim the chicken thighs. Cut into bite sized pieces.
Add the chicken and red pepper pieces onto the skewers, making sure not to crowd them. Line them onto a pan lined with aluminum foil.
Brush the marinade over the skewers. Refrigerate the skewers to marinate.
When you're ready to cook, brush the grill with oil. Place skewers onto a medium-high grill.
Using tongs, add the skewers to the grill. Rotate the skewers to cook the chicken thoroughly, grilling for 10-15 minutes.
Once cooked, transfer to a clean plate and serve.
This recipe is offered by Dr. Shillingford, MD, PA, a board certified surgeon specializing in advanced laparoscopic and weight loss surgery. Dr. Shillingford's gastric sleeve, gastric bypass, and lap band surgery patients receive top notch care at Northwest Medical Center's Center of Excellence in Bariatric Surgery, where he serves as Medical Director. Dr. Shillingford's bariatric surgery patients come from nearby towns like Boca Raton and Miami for surgery, but many travel from further locales like Orlando, Jacksonville, Tampa, and Naples for his esteemed services and affordable out of pocket prices. For more information on Dr. Shillingford's post bariatric surgery diet, please see this reference sheet: http://www.drshillingford.com/pdf/post-op-gastric-sleeve-bypass-diet.pdf