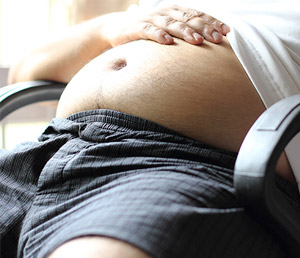 Obesity is one of the most prevalent health concerns facing Americans. According to the CDC, nearly 40% of adults in the US are affected by obesity. As of 2015-2016, that amounted to nearly 94 million Americans. Obesity itself is cause for concern for one's health, but obesity can also predispose people to other health conditions. Obesity can contribute to the development of:
Type 2 diabetes
Cancer
Coronary heart disease
Stroke
Chronic obstructive pulmonary disease
Nonalcoholic fatty liver disease
Chronic kidney disease
Type 1 diabetes
Chronic liver disease
According to researchers from the University of Oxford, men and women may face these health risks at different rates. Using medical data from over 400,000 adults in the UK, researchers found that men with obesity are at a higher risk of kidney failure and chronic obstructive pulmonary disease than women with obesity. Study author, Dr. Censin, noted, "This study shows just how harmful carrying excess weight can be to human health, and that women and men may experience different diseases as a result."
Chronic kidney disease and chronic obstructive pulmonary disease are conditions that should be cause for concern for men with obesity. Chronic kidney disease can lead to a reduction in kidney function that requires a very strict diet, fluid restriction, and routine dialysis treatments to prevent death. Chronic obstructive pulmonary disease can lead to limited mobility, reduction in quality of life, and the need for breathing assistance with oxygen or other equipment as well as medications that can cause side effects.
The findings that men with obesity may be predisposed to chronic kidney disease and chronic obstructive pulmonary disease can help doctors and clinicians counsel their patients more effectively. It also highlights the mounting evidence that treating obesity and preventing obesity is a crucial step in preventing other life threatening diseases.
For adults with obesity who have struggled with weight loss, bariatric surgery may be an effective solution. Medical studies consistently show the effectiveness of weight loss surgery. One meta-analysis showed that based on 164 studies, after 5 years patients lost 12 to 17 points on their BMI. As an example, if a patient's initial BMI was 45 prior to surgery, after 5 years their BMI might be reduced to 28 to 33 post surgery.
Dr. Shillingford, MD, PA performs gastric sleeve, gastric bypass, and lap band surgery on patients with obesity or who are overweight and also have a comorbid medical condition, such as type 2 diabetes. To learn more about which surgery is best for you, schedule your free informational session with Dr. Shillingford by calling his office at (561) 483-8840. Dr. Shillingford's patients receive superior care during their surgical stay at Northwest Medical Center, where he proudly serves as Medical Director, and during their follow up at his Boca Raton office, which is conveniently located for patients in nearby Miami, Fort Lauderdale, West Palm Beach, Coral Springs, and even Orlando