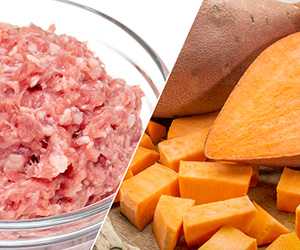 Quick and easy weeknight dinners are great, but healthy ones are even better. How about a healthy, easy, weeknight dinner recipe that picky eaters might even like?
This Ground Turkey and Sweet Potato Skillet Meal cooks up quickly and uses common ingredients you might even have on hand. Can you imagine no special trip to the grocery store for a new recipe? Well, even if you have to stop it'll be quick. Or, feel free to substitute ingredients to suit your taste or your pantry.
The beauty of this recipe is that it's cooked in one skillet, which makes cooking and cleaning up much easier. What could you do with that extra time not spent in the kitchen? Take a walk, go for a bike ride, meditate, help with homework, or spend those extra minutes planning out lunch box meals for the next day.
This recipe uses ground turkey, which many bariatric patients tolerate well after 3 months post op. The sweet potato is a good source of complex carbohydrates for gastric sleeve, gastric bypass, and lap band patients as it also provides fiber, and vitamins A and C, as well as a host of healthful vitamins, minerals, antioxidants and anti inflammatory compounds.
Ground Turkey and Sweet Potato Skillet

Adapted from www.primaverakitchen.com/ground-turkey-sweet-potato-skillet
2 tbsp extra-virgin olive oil
1 lb extra lean ground turkey
1 tsp garlic, minced
½ cup sweet onion, diced
½ cup yellow or orange pepper, diced
1 ½ cup sweet potato, diced
Salt and pepper
½ cup shredded mozzarella cheese
Directions:
In a cast iron skillet, heat oil over medium high heat.
Add ground turkey and garlic. Cook for about 10 minutes, stirring occasionally.
Add onions and peppers. Cook until golden brown.
Add the sweet potato, salt, and pepper.
Cover the skillet and cook until tender. Stir occasionally. Add a little bit of water to help cook the sweet potato if needed.
While the potato is cooking, preheat oven to 400 degrees.
When the sweet potato is tender, add shredded mozzarella cheese and transfer the pan to oven to melt the cheese. Watch carefully and remove when cheese is melted.
The above recipe is offered by Dr. Shillingford, M.D., P.A., a board certified surgeon specializing in laparoscopic and obesity surgery. Dr. Shillingford's gastric sleeve, gastric bypass, and lap band patients come from all over South Florida including Boca Raton, Delray Beach, Wellington, Miami, Fort Lauderdale, and Parkland. His bariatric patients are often seeking recipes that taste good, are high in protein, and fit into their post surgical weight loss diet.