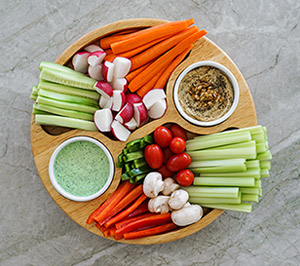 Pinterest is full of pictures and recipes for the trendiest foods- the latest smoothie bowls, salads, and high protein meals. We may want to try them, but it's hard to ask where to find the ingredients if we don't know how to pronounce them.
We've rounded up five foods that definitely are not pronounced the way they are spelled:
Acai (ah-SIGH-ee)- It's a berry from a South American palm tree that's known for its antioxidants. It's often a flavor in smoothie bowls and pressed juice. Gastric sleeve, gastric bypass, and lap band patients should stay away from juices after their bariatric surgery due to high levels of sugar. The berries can be found frozen, which can be incorporated into a bariatric diet when fruits are allowed.
Crudite (kroo-dee-TAY) It looks like it's pronounced 'crew-dite' but it's definitely not. Crudite is a platter of fresh, sliced vegetables and dipping sauce. Gastric sleeve, gastric bypass, and lap band patients can enjoy crudite with a protein-rich sauce (like white bean spread or hummus) once they can tolerate raw, low carbohydrate vegetables (Dr. Shillingford's Stage 6).
Quinoa (KEEN-wah)- Quinoa is an edible seed that has a nutty flavor that has become popular lately due to the gluten-free and high protein food trends. Quinoa does have carbohydrates, so weight loss surgery patients are cautioned to add quinoa into their diets only when larger amounts of carbohydrates are allowed.
Tzatziki (ZAT-zee-key)- This is a light and refreshing sauce made of plain yogurt and grated cucumber, plus olive oil, garlic, lemon, mint, or dill. It makes a great accompaniment to chicken meatballs. Use a greek yogurt to make this sauce even higher in protein.
Turmeric (TER-muh-rihk)- This Indian spice is bright orange in color and often gives curries and other Indian and Asian foods their classic flavor. Gastric sleeve, gastric bypass, and lap band patients can enjoy the benefits of turmeric in a tea.
Now that you can pronounce these foods, you might find yourself talking about them. But, gastric sleeve, gastric bypass, and gastric band patients need to be cautious to only introduce foods into their post-op bariatric diet at the correct stage. Adding foods back too early can cause intolerance and a host of unpleasant issues in addition to hindering their weight loss.
Dr. Shillingford, MD, PA is a board-certified surgeon specializing in advanced laparoscopic and weight loss surgery. His gastric sleeve, gastric bypass, and lap band patients receive top-notch care during their stay at Northwest Medical Center's Center of Excellence in Bariatric Surgery, where Dr. Shillingford serves as Medical Director. Follow up care is provided in Dr. Shillingford's Boca Raton office, which is conveniently located for patients who travel from Miami, Fort Lauderdale, Wellington, Coral Springs, West Palm Beach, and even Orlando.