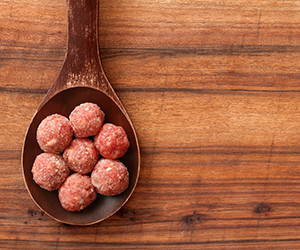 Do you hear it's call?
If you listen carefully, you may hear "Make me, cook me, eat me, I'm delicious!"
That's the call, the call of the meatball.
The perfectly portioned, easy to make, easy to freeze, customizable, and very versatile little ball of goodness is just waiting to be made and enjoyed in so many ways!
For gastric sleeve, gastric bypass, and gastric band patients the meatball can be the perfect package. It can be made from ground beef, turkey, chicken, pork, or any combination that works for you and you tolerate well after weight loss surgery. Between the meat and the eggs, it's high in protein. They can be baked (not fried) to lower the calories from fat. They can be made into small portions to help you control how many ounces you eat per meal. Their mild flavor makes them easy to incorporate into a variety of meals and flavor profiles (meaning you won't get bored of them).
Meatballs can easily be worked into a low calorie diet to help you lose weight after bariatric surgery. In case all you can think of is pasta and meatballs, we've brainstormed some creative meals that use meatballs:
Place a meatball and a cube of mozzarella cheese on a toothpick and dip in marinara sauce
Top with tzatziki sauce and eat in a lettuce cup or pita bread
In a bowl of vegetable or minestrone soup
Mixed in with sauteed cabbage and a dash of tomato sauce
Skewered with pineapple and peppers with a sweet and sour sauce on the side
Turn it into a slider
Alongside of mashed cauliflower
Work it into a taco salad
With buffalo sauce and celery sticks
Make zucchini noodles with meatballs, or a zucchini lasagna with meatballs
If that didn't make you ready to make meatballs, nothing will. While you can buy frozen meatballs, making them yourself is not much more effort and is a whole lot better. Any basic meatball recipe will work, but if you've never made meatballs before a good, classic style recipe can be found here. If you have extra meatballs, place them on a sheet pan and freeze them. After they are completely frozen, pop them into a freezer bag for more convenient storage. It should be easy to pull out a one, two, or a few the next time you need a quick meal.
The above suggestions are offered by Dr. Shillingford, M.D., P.A., a Center of Excellence surgeon specializing in advanced laparoscopic and bariatric surgery. Dr. Shillingford's gastric sleeve, lap band, and gastric bypass patients come to his Boca Raton office from both several Florida locations such as Miami, Tampa, Sarasota, Orlando, and Jacksonville, as well as other states like Georgia, Texas, Michigan, Ohio, New York, New Jersey, and Hawaii. His weight loss surgery patients are often looking to explore new and different foods and flavor combinations that are consistent with their low calorie, high protein post bariatric surgery diet. Meatballs can easily and deliciously be incorporated into meals or snacks to add extra protein in a post gastric sleeve, gastric bypass, or lap band diet.