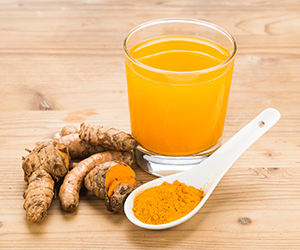 Americans can't seem to get enough turmeric lately. While the trend has been steadily growing since 2008, Google has seen over a 50% rise in turmeric related searches since November.
Why are consumers seeking information and recipes on this spice that is most well known for its role in curry powder? Turmeric may not be particularly high in any one vitamin or mineral, but it has grown a legion of fans who exalt it for its health benefits, which range from curing acne to detoxification to pain relief.
Turmeric is the bright yellow spice made from the root of the Curcuma longa plant. It has long been used as a powerful anti inflammatory in traditional Chinese and Indian medicine, and now science is illuminating the reasons why. Volatile oils in the spice have been shown to demonstrate significant anti-inflammatory activity. But even more potent is the sunny colored pigment curcumin, which is thought to be the active pharmacological agent in the spice that produces anti inflammatory effects similar to that of over the counter drugs, but without the toxicity.
The anti inflammatory effects of turmeric may lend relief to a variety of conditions including general pain, inflammatory bowel disease, and rheumatoid arthritis, but its benefit does not stop there. Turmeric has been associated with abating the effects of cystic fibrosis, inhibiting the growth of cancer cells, improving liver function, offering cardiovascular protection, lowering cholesterol, and affording protection from neurodegenerative diseases such as Alzheimer's disease. No wonder Americans are Googling turmeric!
So, how do you incorporate turmeric into your diet? Eating curry is one solution, but not all curry powders may have a high percentage of turmeric. Turmeric powder can be used in a variety of ways, including:
Adding it to egg salad, scrambled eggs, or frittatas
Tossing it with roasted root vegetables
Incorporating it into lentil dishes
Adding it to smoothies
Making Golden Milk with it
Incorporating it into tea
Adding it to a pot of rice
The warm and slightly peppery flavor works well with many proteins, including lamb, chicken, and salmon, and with a variety of plant based foods including cauliflower, broccoli, cashews, and leafy green vegetables. The bright color may be hard to mask, so don't try to hide it.
For those just starting to incorporate turmeric into their diets, Turmeric Tea may be a good place to start. It only has 70 calories, and has enough superpowers to boost the immune system, hydrate your body, and make you feel like you're doing something good for yourself. This tea can be a good replacement those who might otherwise be absently reaching for an afternoon snack, which is nutritionally beneficial for gastric sleeve patients following their post bariatric surgery diet to lose weight.
Turmeric Tea
1 bag mint tea
1 cup hot water
1 ½ tsp grated ginger
⅛ tsp turmeric
⅛ tsp cinnamon
1 tbsp raw honey
A dash of freshly ground black pepper
Directions:
Prepare mint tea by steeping the tea bag in hot water for 5 minutes.
Add all the dry ingredients to the steeped tea, and sweeten with honey.
This Food Highlight is offered by Dr. Shillingford, M.D., P.A., a board certified surgeon specializing in advanced laparoscopic and obesity surgery, including adjustable lap band, gastric sleeve, and gastric bypass surgeries. Dr. Shillingford's bariatric weight loss practice is located in Boca Raton, Florida and serves patients from all over South Florida including Coral Springs, Delray Beach, Miami, Wellington, Orlando, and Fort Lauderdale. Dr.Shillingford's bariatric patients often ask about foods that encourage good nutrition and overall health.