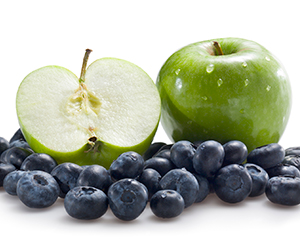 School is out and parents and grandparents may find themselves making innumerable snacks each day for their young ones. It's hard to fix several snacks a day and not want to partake. Well, this snack is one that even gastric sleeve, gastric bypass, and lap band patients can feel good about sharing with the kids. Better yet, make it together and eat it together!
This recipe is a take on the good old standby of a peanut butter and jelly sandwich, but with a few new and improved updates that make it better for bariatric patients by keeping it lower in calories and carbohydrates, higher in fiber, and including more fresh ingredients. The apple becomes the bread, which lowers the amount of carbohydrates while still keeping it sweet. Almond butter is substituted for peanut butter (which often has added sugars), but you could also try cashew butter or sunflower butter. The addition of the blueberries in place of jam or jelly adds both fiber and antioxidants. The shelled pistachios add extra protein and fiber, as well as a satisfying crunch.
You don't have to tell the kids about the benefits over their beloved PB&J. They'll just think this snack is cute and delicious, and they'll love making their own and decorating it how they want. And you can have a fresh and healthy snack that includes protein and fiber to help you keep the pace with the kids!
Blueberry Pistachio Apple Sandwiches
Adapted from www.wholesomeyum.com
1 granny smith apple
6 tbsp almond butter
6 tbsp blueberries
3 tbsp shelled pistachios
Directions:
Cut apple into 6 rounds. Using a knife, remove the core.
Spread almond butter on each slice.
Top with fresh blueberries and shelled pistachios.
This snack suggestion is offered by Dr. Shillingford, M.D., P.A., a Boca Raton, Florida based surgeon specializing in advanced laparoscopic and obesity surgery. Dr. Shillingford's surgical weight loss patients come from all over South Florida and represent people in all walks of life, from career minded professionals, students, grandparents, stay at home parents and everyone in between. This snack is geared toward those around young children, but could make a nice breakfast or snack for just about anyone.