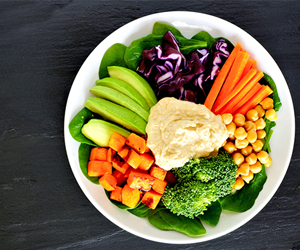 Healthy, protein rich snacks will need to fill in the gaps of your post op gastric sleeve diet when you've reached the final stage at one year post op. When you no longer rely on protein supplement drinks to help you meet your nutrition and protein requirements, you will need to make wise food choices that provide you with vitamins, minerals, fiber, and protein without adding too many calories that could hinder weight loss (or even promote weight gain).
We've rounded up 5 "go-to" snacks that you can count on to fill you up in between your meals.
Hummus and fresh veggies
You can make it yourself or buy it prepackaged, but either way hummus can make a great snack. Since it's made from chickpeas, you get the complex carbohydrates, protein, and fiber from the legume. Add in celery sticks, red pepper rings, cucumber rounds, or carrot sticks and you've got a fiber filled, crunchy snack that can satisfy.
Cottage cheese and fruit
Cottage cheese has a reputation as a diet staple for a reason: it's high in protein, low in calories, and fills you up. Add in some sliced strawberr ies, diced cantaloupe, or blueberries for a boost of vitamin C and fiber.
Nuts
Having a variety of nuts handy is a great choice for gastric sleeve, gastric bypass, and lap band patients. The salty crunch of nuts can very satisfying in between meals. Nuts, including pistachios, walnuts, almonds, cashews, and peanuts, can be a healthy, vitamin, mineral, and fiber filled snack. Just be wary of how many you snack on as the calories can add up quickly.
Cheese and grapes
Whether you cut it off a block or unwrap it, cheese can be a great snack choice. Dairy naturally has carbohydrates, but it also has protein and calcium. Add some fresh grapes to temper the richness of the cheese and add some fiber.
Roll Ups
Turkey and swiss, ham and american, roast beef and provolone, chicken and cheddar, or any combination you like can make a quick and easy snack. If you want to get fancy, you can add an apple slice for a sweet crunch, microgreens for a fresh taste, or olives for a savory addition.
These suggestions are offered by Dr. Shillingford, M.D., P.A., a Center of Excellence surgeon specializing in advanced laparoscopic and weight loss surgery. Dr. Shillingford's gastric sleeve, gastric bypass, and gastric band patients come from all over Florida and the country, including Boca Raton, Miami, Orlando, New York, Detroit, and Houston, for his surgical skills, compassionate care, and reputation for affordable obesity surgery. Healthy snacking is crucial to eating enough protein for bariatric patients and these 5 snack choices can help you meet your protein requirements while still contributing to successful weight loss.