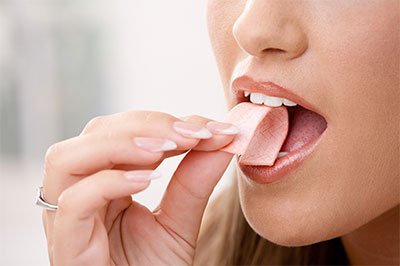 Some people use chewing gum as a weight loss aid. The idea is that if their mouth is occupied by calorie free gum then they aren't eating calorie laden foods, which helps reduce their overall caloric intake and promotes weight loss. Yet, bariatric patients are told not to chew gum. Why?
There are several reasons why gastric sleeve, gastric bypass, and lap band patients are encouraged not to chew gum after their weight loss surgery. First, some gums can have a lot of sugar, which contributes unnecessary calories into the diet, making it harder to lose weight. But, even if they opt for a sugar free version, chewing gum can cause problems in bariatric patients.
The act of chewing gum allows air to enter into your digestive tract. For people who haven't had bariatric surgery, this may not cause any problems. But for bariatric patients having air in their digestive tract can lead to gas and abdominal discomfort.
In the first few weeks after gastric sleeve, gastric bypass, or lap band surgery, some patients report excess saliva. Chewing gum can also lead to saliva production, potentially compounding their problem.
Another problem with gum chewing after bariatric surgery is the potential for any swallowed gum to cause a blockage. After gastric sleeve, gastric bypass, or lap band surgery patients are educated to chew their food thoroughly to a paste like consistency. As much as you chew your piece of gum, it will never be such a consistency. The wad of gum can potentially lead to a blockage if swallowed. Most do not find the risk worth it.
A great place to ask questions about life after bariatric surgery is at Dr. Shillingford's Monthly Nutrition Support Meetings with bariatric dietitian, Susan Peacock, MS RDN. Dr. Shillingford offers these classes to his gastric sleeve, gastric bypass, and lap band patients every month. The classes are held in Dr. Shillingford's Boca Raton office, which is conveniently located for his Miami, Fort Lauderdale, Delray Beach, Wellington, and West Palm Beach patients. For more information about weight loss surgery with Dr. Shillingford, MD, PA, or his monthly Nutrition Support Meetings please call his Boca Raton office at (561) 483-8840.