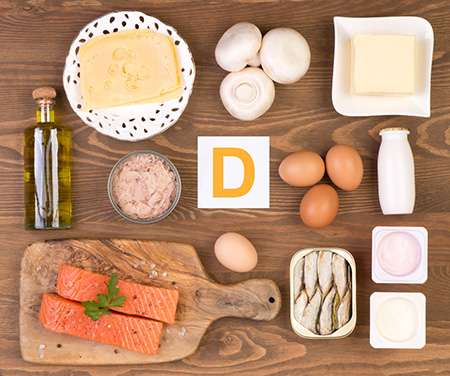 Vitamin D is one of the most talked about vitamins in the media. Research suggests that its contribution to a healthy immune system. One study suggests that people with low Vitamin D levels are 62% more likely to suffer from recurrent strep throat. Some foods that supplement healthy doses of Vitamin D in your diet include Pacific salmon (wild), egg yolk, and milk (including almond, soy, and rice varieties). Wild salmon has a staggering 75% more vitamin D than farmed salmon making it the best choice. Also, egg yolks contain 10% of daily-recommended vitamin D (600-1000 IU). Milk, depending on the brand, varies between 15-30% of daily intake. Although these foods are rich in this and other important nutrients, unless there is a deficiency, there is no need to go overboard on supplements.
The best way to know where you stand with Vitamin D is to have your blood levels checked by your bariatric specialist. Dr. Shillingford monitors his patients closely for deficiencies regardless of whether or not they are in the immediate area. In fact, Dr. Shillingford's weight loss surgery patients from Orlando, Daytona, Tampa, Fort Pierce, and Port St. Lucie can expect the same level of care as those who come to him locally from Palm Beach, Delray Beach, Fort Lauderdale, and Miami.
Overall health and wellness are the ultimate goal for all bariatric surgery procedures. Therefore, although the Sleeve Gastrectomy (gastric sleeve), Lap-Band, and gastric bypass provide a powerful tool for weight reduction it is key to incorporate a healthy diet, exercise, and behavior modification in any weight loss program. Following up with your health care provider to monitor your progress is yet another tool in the post-surgery process.
- Dr. Kahlil Shillingford is a board certified surgeon who specializes in bariatric or weight loss surgery including the Sleeve Gastrectomy (Gastric Sleeve), Gastric Bypass, and Lap-Band procedures. His patients come from across the state of Florida including, Fort Lauderdale, Palm Beach, Miami, and the Tampa Bay. To learn more about Dr. Shillingford's integrative weight loss surgeries and all-inclusive fees please call his office in Boca Raton, Florida at (561) 483-8840.