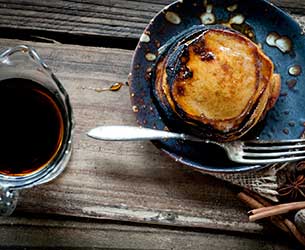 Roasted sweet potatoes are a weekly staple for some. They're sweet, delicious, and have complex carbohydrates and fiber making them a good choice for people with diabetes, and for those who have had gastric sleeve, gastric bypass, or lap band surgery. The pack well over 100% daily needs of vitamin A, as well as good doses of potassium, vitamin C, and vitamin B-6. Overall, they have more sugar than regular potatoes, but less overall calories. The dietary fiber and low glycemic index make them a good choice for diabetics. And being low in sodium and high in potassium can help with blood pressure. The vitamin C may help with immunity and the choline in sweet potatoes may help fight inflammation. And they taste good!
Sweet potatoes are quick to bake in the microwave, but roasting them in the oven caramelizes the sugars to deepen the flavor and make them sweeter. One trick to roasting sweet potatoes is to roast several at a time. It takes the same amount of time whether you roast one or four, and baked sweet potatoes keep in the refrigerator for days and reheat quickly.
If you have an extra roasted sweet potato hanging out in your fridge, a great recipe to try is Two Ingredient Sweet Potato Pancakes. The eggs provide protein and the sweet potato provides good carbohydrates and fiber. These pancakes make a great breakfast, but can also cook up quickly for an unconventional dinner. To add extra protein, you can eat them with greek yogurt.
Two Ingredient Sweet Potato Pancakes
Adapted from: http://skinnyms.com/2-ingredient-sweet-potato-pancakes/
1 roasted sweet potato
2 eggs
A dash of cinnamon (optional)
A dash of allspice or pumpkin pie spice (optional)
Directions:
Remove the skin of a cooled sweet potato. Place the flesh in a bowl and mash. Mix in 2 eggs. Add spices, if desired.
Heat griddle over medium high heat. Coat with cooking spray.
Spoon ¼ cup of batter into the pan. Cook for 5-7 minutes. These pancakes do not bubble like traditional pancakes, so you will have to rely on a timer. Flip using two spatulas, if necessary, to help it stay together. Once flipped, cook another 3-5 minutes. Remove from pan. Serve with your choice of topping.
The above recipe for Sweet Potato Pancakes is offered by Dr. Shillingford, M.D., P.A., a board certified surgeon specializing in advanced laparoscopic and obesity surgery. Dr. Shillingford performs affordable gastric sleeve, gastric bypass, and lap band surgeries on patients from all over Florida, including Miami, Boca Raton, Fort Lauderdale, West Palm Beach, Orlando, St. Petersburg, and Jacksonville, as well as those traveling from out of state from New York, Texas, Ohio, New Jersey, and Hawaii. Many of Dr. Shillingford's gastric sleeve, gastric bypass, and lap band patients are interested in high protein recipes that incorporate complex carbohydrates and fiber, and this recipe for Sweet Potato Pancakes fits the bill!