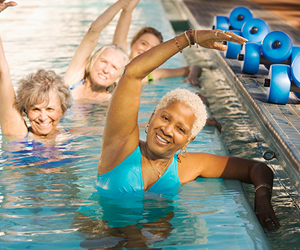 January is a great time to start an exercise regime. Lots of friends, family, and coworkers may also be starting to work out (maybe thanks to some New Year's resolutions), so it's easy to find support and encouraging words. If you've been cleared to exercise by Dr. Shillingford after your gastric sleeve, gastric bypass, or lap band surgery, but haven't yet started to work out, these three exercises may be just what you need to get started on your journey of weight loss and improved health.
Water Aerobics
Yes, getting in a bathing suit may be uncomfortable (or even embarrassing) when you are overweight or obese, but the good part is that mostly just your chest, arms, and head will be above the water for people to see. And, chances are you won't be the only one feeling the same way. Water aerobics are ideal for overweight and obese exercisers because water reduces the gravitational load on your body by 90% (meaning you weigh 90% more on land than you do in the water), which makes water aerobics have very little impact on your joints and bones. This can help you exercise longer with less pain. What's more is that simple movements become resistance exercises when done underwater which helps you burn calories at a higher rate. Resistance exercises also help strengthen your muscles and support bone health. Another benefit to water exercises is that the pool temperature will help you stay cool, and even if you sweat it will be hard for others to notice in the pool. If you have a pool, you can certainly do water aerobics in the comfort of your own home, but make sure to follow a specified routine to work out multiple muscle groups and be sure to stick to a schedule. The best workout routine is the one you actually keep.
Walking
Walking is one of the easiest exercises to begin (provided you are physically able to walk). No equipment is necessary except a good pair of sneakers. It can be done indoors or outdoors, day or night, rain or shine, leaving you with very few excuses for not sticking to your routine. You can start small by walking 5 minutes at a time and increasing your exercise duration every few days until you reach a goal of 30 minutes. Those 30 minutes can be broken up into a few sessions, such as 3 10 minute walks, if that helps you fit it all in. The benefits of walking can be huge: weight loss, muscle gain, improved endurance, improved mood, improved sleep, improved balance and coordination, and reductions in blood sugar and blood pressure.
Recumbent Stationary Bike
If taking a class at the gym is too daunting and the treadmill makes you think of those videos everyone thinks is funny but you think are all too real, that's OK, because another great choice to get you started working out can be the stationary bike. A recumbent bike lets you sit comfortably in a chair-like seat, which can help relieve pressure on your back, hip, knees, and other joints, making it a low impact exercise and good for those with arthritis. Most bikes allow you to adjust the resistance and some have preset exercise routines to choose from that let you get varying degrees of difficulty followed by a cool down period. You will feel this exercise in your legs, but it also benefits your heart and waistline. Cardiovascular activity contributes to weight loss, decreased heart rate and blood pressure, and helps improve your breathing.
If you've been cleared to exercise after gastric sleeve, gastric bypass, or gastric band surgery, don't put it off any longer. Pick one or all three of these exercises to get you started on a workout routine that you are able to do and that you can easily incorporate into your post bariatric surgery lifestyle. Exercising routinely will help you lose weight, shed inches, drop pant sizes, breath easier, become stronger, sleep better, see reductions in your blood pressure and blood sugar, and feel better about yourself. So pick an activity and get started!
These suggestions are offered by Dr. Shillingford, M.D., P.A., a Center of Excellence Surgeon specializing in gastric sleeve, gastric bypass, and lap band surgery. Dr. Shillingford's reputation for excellent surgical skills and comfortable bedside manner attract patients from all over Florida, including Miami, Fort Lauderdale, Naples, Tampa, Sarasota, Port St. Lucie, Orlando, and Jacksonville. His bariatric weight loss patients receive top notch care during their hospital stay at Northwest Medical Center's Center for Excellence in Bariatric Surgery, where he serves as Medical Director, and during their follow up care in his Boca Raton office. But, it's up to the patients themselves to incorporate exercise into their daily lives to make the most of their weight loss efforts.