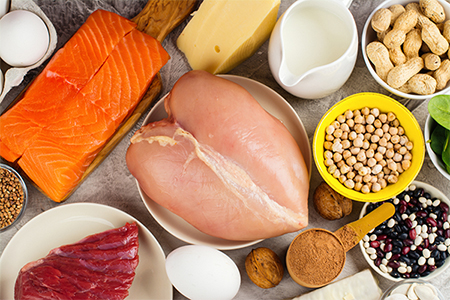 Dr. Kahlil Shillingford of Boca Raton, Florida specializes in the surgical treatment of obesity and offers treatment options including the Sleeve Gastrectomy (Gastric Sleeve), Gastric Lap-Band, and Gastric Bypass. His experience has since touched the lives of patients traveling across the state from Naples, Sarasota, Tampa Bay, Orlando, and out of state as well as local residents from such Fort Lauderdale, Palm Beach, Miami, and Aventura.
Second to water, protein is the most abundant substance in the human body. Protein is an essential component of both pre-operative and post-operative diets for bariatric patients. According to Dr. Kahlil Shillingford, the recommended amount of protein after surgery varies between individuals, but is usually between 55-100 grams of protein per day. At mealtimes, foods containing high amounts of protein should be consumed first to be certain that by the time you are full, you have consumed enough protein. After surgery, it is difficult to consume large portions of solid foods. Initially, most bariatric patients use liquid protein supplements to consume their required amount of protein. Some patients continue these supplements as a convenient source of protein for the rest of their lives. So what's the benefit of having all this protein after surgery?
Most importantly, protein aids in proper wound healing after bariatric surgery. Proteins are within every cell, tissue, and organ of the body and are consistently being broken down and replaced. Protein is not stored in the body; therefore, consuming protein is important so the body does not suffer. Protein also allows the body to burn fat instead of muscle for a healthier weight loss while supporting your natural metabolism in order to lose weight quicker. Protein is a filling substance and will also resolve hunger between meals. It is not uncommon to have some hair loss after surgery, but incorporating protein in your diet keeps your hair, skin, bones and nails healthy.
Some good examples of protein after bariatric surgery include the following:
Eggs
Fish
Chicken
Lean turkey
Tofu
Nonfat/Low-fat cottage cheese
Cheese
Nonfat/Low-fat yogurt
Lactaid milk
For the first 3-4 months after surgery, it is best to avoid some types of protein. These include the
following:
Fried or high fat meats
Fried eggs
Highly seasoned or spicy meats
Skin of meats and tough meats
Red meat (beef, lamb, pork)
Along with protein, water is imperative for healing properly. If you are not well hydrated, excessive protein intake may lead to dehydration. Dehydration leads to dizziness, headaches, and fatigue. It is important to stay within your protein limit for the day; consuming high above the recommended amount may inhibit the consumption of other nutrients within the body.
Dr. Kahlil Shillingford is a board certified surgeon who specializes in bariatric or weight loss surgery including the Sleeve Gastrectomy (Gastric Sleeve), Gastric Bypass, and Lap-Band procedures. His patients come from across the state of Florida including Naples, Sarasota, Tampa Bay, Fort Lauderdale, Palm Beach, Miami, Orlando, and Aventura. To learn more about Dr. Shillingford's integrative weight loss surgeries and all-inclusive fees please call his office in Boca Raton, Florida at (561) 483-8840.