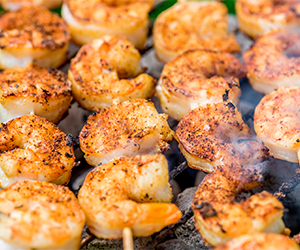 Shrimp may feel like a dinner for a special occasion, but it can be made quickly and deliciously, even on a weeknight. It's high in protein and low in carbohydrates, which is ideal for bariatric patients and those seeking weight loss. Another reason shrimp is good for gastric sleeve, gastric bypass, and lap band patients is because shrimp is easily portion controlled for both cooking and for eating. It's easy to pull out a few frozen shrimp to cook for dinner, especially if you only need to cook a few for yourself. They cook up fast and by cooking only the amount you plan on eating, there's no option for leftovers.
This shrimp recipe has less than 125 calories per 5 shrimp and nearly 15 grams of protein. It's a little sweet and a little spicy. These shrimp would be a tasty topping for a green salad, or would pair nicely with riced cauliflower, brown rice, quinoa, or even coleslaw or red cabbage slaw.
Sriracha Shrimp
Adapted from Weight Watchers
http://www.yummly.com/recipe/external/Weight-Watchers-1598142
Ingredients:
1 lb shrimp, deveined
3 tablespoons plain greek yogurt
4 tablespoons green onion, sliced thin (reserve 1 T for garnish)
1 ½ tablespoons sweet chili sauce
½ – ¾ tablespoons sriracha sauce
10 skewer sticks, soaked in water
Instructions:
Combine yogurt, onion, sweet chili sauce, and sriracha in a bowl and stir. Set aside.
Place 5 shrimp on each skewer.
Grill shrimp skewers 5-8 minutes, until opaque and cooked through.
Brush liberally on both sides with sauce mixture.
Garnish with remaining green onions.
The above recipe is offered by Dr. Shillingford, M.D., P.A., a board certified surgeon specializing in advanced laparoscopic and obesity surgery. Dr. Shillingford's gastric sleeve, gastric bypass, and lap band patients come to his Boca Raton office from all over South Florida, including Delray Beach, Wellington, Parkland, Miami, Fort Lauderdale and West Palm Beach. Dr. Shillingford's gastric sleeve, gastric bypass, and lap band patients are often seeking high protein recipes that fit into their post bariatric surgery diet and help them achieve their target weight loss.