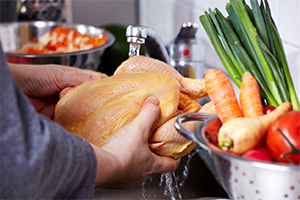 Chicken is often a staple in a high protein, low carbohydrate diet such as the post bariatric surgery diet followed by gastric sleeve, gastric bypass, and lap band patients follow. Chicken provides high quality protein, can be low in fat and calories, is inexpensive, and is very versatile.
For bariatric patients, chicken is often one of the first foods added back into their diets a few weeks after their bariatric surgery. This can pose a food safety risk for some patients who may be more vulnerable to infection following the surgery.
In order to prevent food safety issues should you wash your chicken before cooking it? Some people say 'yes' and others say 'no,' but how do the experts weigh in?
According to the USDA's spokesperson Marianne H. Gravely, the USDA falls in the camp of "don't wash your chicken." They contend that washing the raw chicken can do more harm than good by spreading the potentially harmful germs, or pathogens, to your hands, other foods, surfaces, and utensils. The USDA asserts that washing does not actually remove any significant amount of pathogens, only adequate cooking will kill the bacteria.
According to Buzzfeed, a germ expert from University of Arizona, Kelly Reynolds, agrees with the USDA. Despite her research showing that packaged chicken from a variety of grocery stores does often contain some pathogens, she still does not support washing the raw chicken. The chances of contamination from raw poultry splatter are the larger risk, especially considering that washing doesn't remove the germs. The germs are killed by the cooking process, not marinating or washing.
Food safety should be a priority for everyone, but especially for those still recovering from surgery (including gastric sleeve, gastric bypass, gastric band, revisional surgery, hernia surgery, gallbladder removal, and other GI surgeries). Follow USDA guidelines for proper cooking temperatures to kill potentially harmful bacteria in order to reduce the risk of getting sick from your dinner. For gastric sleeve, gastric bypass, and lap band patients, also remember Dr. Shillingford's advice to make your food moist, chew thoroughly, and separate your food and your fluids.
To get the latest news and information affecting gastric sleeve, gastric bypass, and gastric band patients, follow Dr. Shillingford on Facebook Dr. Shillingford, MD, PA, is a board certified surgeon specializing in advanced laparoscopic and weight loss surgery. His bariatric weight loss surgery patients come from all over Florida, including Miami, Fort Lauderdale, Coral Springs, Orlando, Tampa, and Jacksonville, to have their surgery at Northwest Medical Center's Center of Excellence in Bariatric Surgery. To schedule an informational meeting with Dr. Shillingford, call his Boca Raton office today at (561) 483-8840