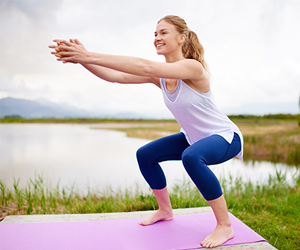 Never do another sit up again. Forget about them; forget sit ups. The Navy has. The Navy has taken sit ups out of its biannual physical test as of 2015. If the Navy has eliminated sit ups, so can you. It doesn't matter if you are a bariatric patient trying to lose weight and improve your health and muscle strength. Even gastric sleeve, gastric bypass, and lap band patients should forget about sit ups.
Are you waiting for the twist? The part where we tricked you into thinking you were getting out of doing sit ups forever? Well, here goes nothing: sit ups can do more harm than good (including being the cause of lower back pain and disc damage) and they don't even lead to the coveted six pack abs.
Sit ups earned a star place in many people's workouts due to videos like "Abs of Steel" and from contraptions like the Ab Lounge that sold on infomericals. But, experts have been trying to call sit ups out for decades based on poor body mechanics, and the message is finally catching on. Stuart McGill, a spine biomechanics professor at University of Waterloo in Canada, performed the research that lead to the military's decision to eliminate the sit up. According to McGill, the muscles of the spine, torso, and core were not designed to move in the way sit ups make them move. Sit ups push your curved spine against the floor and work your hip flexors. Sit ups can also squeeze the discs in your spine, which can bulge over time and lead to nerve pain and hernia.
Fitness experts have moved away from the sit up (thanks, in part to McGill's research) toward healthier eating and functional fitness, the idea that muscles should be trained in ways that are used in everyday life. As sit ups have fallen to the wayside, planks and squats have moved into the spotlight. They are considered to be more optimal exercises that work your core as well as other functional muscle groups at the same time. Here's the twist: don't do sit ups, but try planks and squats. Your back and core will thank you for it.
The above is offered by Dr. Shillingford, M.D., P.A., a Center of Excellence Surgeon specializing in gastric sleeve, gastric bypass, and lap band surgery. Dr. Shillingford's reputation for excellent surgical skills and comfortable bedside manner attract patients from all over Florida, including Miami, Fort Lauderdale, Naples, Tampa, Sarasota, Port St. Lucie, Orlando, and Jacksonville. His bariatric weight loss patients receive top notch care during their hospital stay at Northwest Medical Center's Center for Excellence in Bariatric Surgery, where he serves as Medical Director, and during their follow up care in his Boca Raton office. But, it's up to the patients themselves to incorporate exercise into their daily lives to make the most of their weight loss efforts.