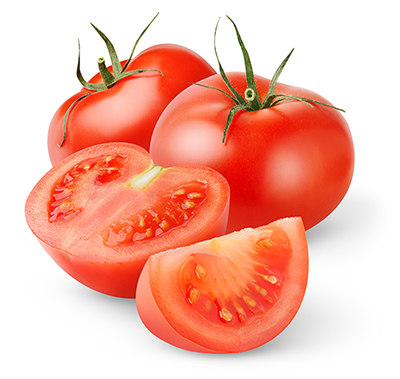 USDA, the following is a list of average carbohydrate content in commonly used fresh tomatoes:
1 grape tomato: 0.3 g
1 cherry tomato: 0.6 g
1 thin slice: 0.6 g
1 plum tomato: 2 .5g
1 small tomato (~2 in diameter): ~3.5 g
1 medium tomato (~2 1/2in diameter): ~5 g
1 large tomato (~3 in diameter) : ~7 g
1 cup chopped tomato: 7 g(Note that carbohydrate content varies with variety and size of the tomato.)
Fresh tomatoes can easily fit into a gastric sleeve, gastric bypass, or lap band diet in moderation without going over the goal of consuming 50 g carbohydrate or less daily. When we cook tomatoes, this does change as we wind up eating more tomato flesh in the same portion size.
Tomatoes offer a variety of nutrients, including vitamins A and C, potassium, phosphorus, folate, calcium, lycopene, beta carotene, and lutein. There are also many variety of tomatoes, such as grape, cherry, plum, beefsteak, and many heirloom varieties that come in different colors.
You can use tomatoes in a variety of ways:
As a base for tuna or egg salad
Diced with avocado
Made into a fresh salsa for chicken
In a green salad
Gastric sleeve, gastric bypass, and lap band patients should follow Dr. Shillingford's guidelines on when it is appropriate to add tomatoes into their bariatric diet. Tomatoes are acidic and may not be well tolerated by bariatric patients in the early stages after their weight loss surgery. Only add them in at the appropriate stage. If your new stomach does not tolerate them well, you can wait a few weeks and try again.
For more bariatric friendly recipes, check out Dr. Shillingford's blog and Facebook page. Dr. Shillingford, MD, PA is a board-certified surgeon specializing in advanced laparoscopic and weight loss surgery. Dr. Shillingford accepts many insurance carriers and also offers an affordable self pay package price. If you are considering gastric sleeve, gastric bypass, or lap band surgery, call Dr. Shillingford's Boca Raton office today at (561) 483-8840.