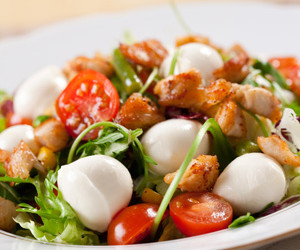 The thought of a salad for dinner may make some people cringe, or wilt from hunger before they've even eaten. Some people may think salads are only a diet food, they're tasteless, rabbit food, they won't be filling. This salad doesn't fall into any of those categories. This Avocado Caprese Chicken Salad is filled with protein, it's sweet, salty, tasty, creamy, and best of all delicious.
This is a great salad for when a gastric sleeve, gastric bypass, or lap band patient is craving Italian food but wants to stay away from pasta. Between the tomato and mozzarella, you've got your Italian flavors covered, as well as your vitamins A, C, and calcium. Add chicken for lean protein, add avocado for heart hearty fat, fiber, and vitamin E, and add fresh basil for freshness and it's antibacterial and anti-inflammatory properties and your heart, your body, and your taste buds will be singing your praises.
The salad is quick to prepare and can be served for lunch or dinner, and makes great leftovers to bring to work. The ingredients are pretty common, you may even have all of them on hand. This great dinner salad is perfect for a summer dinner in Florida when you don't want to turn on the oven, and don't want to eat something that will make you feel overheated and slow (like a traditional pasta dinner might).
Avocado Caprese Chicken Salad with Balsamic Vinaigrette

Adapted from: http://www.joyfulhealthyeats.com/15-minute-avocado-caprese-chicken-salad-with-balsamic-vinaigrette/
Ingredients
1 boneless skinless chicken breast
Salt and pepper to season chicken
½ cup fresh mozzarella balls, halved
1 avocado, diced
3-4 cups fresh spring mix salad
½ cup cherry tomatoes, halved
¼ cup fresh basil, diced
Balsamic Vinaigrette
1 clove garlic, minced
1 tsp dried basil
1 tbsp dijon mustard
1 tbsp lemon juice
¼ cup balsamic vinegar
⅓ cup olive oil
Salt and pepper, to taste
Directions:
In a small bowl, mix together garlic, dried basil, dijon mustard, lemon juice, balsamic vinegar, salt, and pepper. Slowly add olive oil, whisking the entire time to ensure the oil and vinegar combine. Set aside.
Heat grill to medium high heat. Add salt and pepper seasoned chicken breast to grill and cook for 5-6 minutes per side until there is no more pink and the chicken is cooked the whole way through.
Combine your ingredients in your salad bowl and drizzle lightly with dressing. To keep the salad fresh for leftovers, you can refrain from adding the dressing over the whole salad. Instead, package it separately and add it to your salad just before eating your leftovers.
This recipe suggestion is offered by Dr. Shillingford, M.D., P.A., a board certified general surgeon specializing in obesity surgery and advanced laparoscopic surgery. Dr. Shillingford's gastric sleeve, gastric bypass, and adjustable lap band patients come from all over South Florida, including Boca Raton, Delray Beach, Boynton Beach, Wellington, Fort Lauderdale, and Miami. His bariatric patients are often seeking high protein recipes that are lower in carbohydrates and packed with heart healthy vegetables