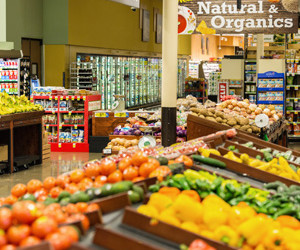 South Florida is lucky to be ripe with so many alternative grocery stores, many of which are catering to those who want to eat healthy but aren't necessarily wealthy. Most have taken the stance that good food, made with quality ingredients you can pronounce, doesn't have to cost a fortune. That is good news for our gastric sleeve, gastric bypass, and adjustable lap band patients who are looking to eat better, lose weight, and improve their health through good nutrition. In this series of blogs we will explore the healthy markets and grocery stores popping up in our South Florida area that indulge our desire for good food but won't gouge our wallets.
Our first stop is at Lucky's.
Lucky's Market was started by two chefs from Boulder, Colorado in 2003. As of 2016, there are at least 17 Lucky's Markets or Cafes in 13 states. While you will find Lucky's mostly in the Midwest and Southeast, more markets are opening as demand grows. Their new relationship with Kroger may speed things along. Luckily for us, South Florida is home to two Lucky's and one more on the way. For Dr. Shillingford's local patients, the closest Lucky's can be found in Coral Springs at 9184 Wiles Road. A little farther south, a Plantation store will be opening soon at 7700 Peter's Road. For those on the west Coast of Florida, Naples area residents can find Lucky's at 3815 Tamiami Trail East. Dr. Shillingford's Orlando area bariatric patients will soon be able to shop at Lucky's when that central Florida store is complete.
One reason more and more Lucky's stores seem to be popping up is that they strive to bring their customers natural and organic food at more affordable prices. In fact, their motto is "Organic for the 99%." Lucky's caters to shoppers looking for good foods that are free from pesticides, antibiotics, artificial colors, preservatives, and growth hormones. But, they also have food they consider less than healthy, but oh so tasty.
What else can you find there?
At Lucky's, you will find a lot of local products, especially in the produce department. They have a bakery, a bulk foods section, and a variety of beer, wine, and spirits. They offer a variety of supplements and healthy living products. You'll find new brands that are GMO free, big name brands you've grown up eating, as well as Lucky's own private label brand. If you're shopping for meat, one of Lucky's in house butchers will cut, season, and wrap your selection any way you want. If you're looking for grass-fed, or natural, or hormone free, or antibiotic free meat you'll find it at Lucky's. They have a wide selection of seafood, from fresh to frozen, from fish sticks to sustainably caught fish. As if that wasn't good enough, they'll "cut it, shuck it, crack it, or season it" for free. You just have to ask!
So, go in, take a look around, and have fun shopping- it's what they want.