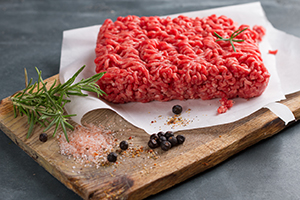 When you need dinner on the table quickly, ground beef can be an easy choice. It cooks up within minutes and can be moist and delicious. Add in vegetables and you've got a high protein, low carbohydrate dinner that can fit into a post bariatric surgery diet.
For those who have had gastric sleeve, gastric bypass, or lap band surgery, having dinner recipes at your disposal that taste good and fit into your post op diet are crucial. You need your 'go to' meals. This can reduce the chances of you eating out or eating foods that you really shouldn't be eating. Adhering to your post op diet is the best way to promote weight loss after gastric sleeve, gastric bypass, or gastric band surgery.
The nice thing about this recipe is that you can tweak it to fit your preferences. You can change the vegetables or add in spices that make the meal more suited to your tastes. Add more garlic. Use a dash of chili powder or cumin. Change the beef or ground turkey. Or whatever you like as you as you stick with the protein and the vegetables.
Fast and Delicious Sauteed Beef and Vegetables
1 tbsp olive oil
1 small/medium red onion, diced
1 pepper, diced (any color you like)
1 clove garlic, minced
1 lb lean ground beef
5 large kale leaves, chopped
Salt and pepper
Onion powder
Directions:
Saute the onion and pepper in olive oil. When they begin to soften and turn translucent (about 5 minutes) add the minced garlic.
Add ground beef. Saute until browned.
Add in kale leaves. Saute until wilted.
Add in salt, pepper, and onion powder to taste.
This recipe is offered by Dr. Shillingford, MD, PA, a board certified surgeon specializing in advanced laparoscopic and weight loss surgery. Although Dr. Shillingford's practice is located in Boca Raton, Florida, many of his bariatric surgery patients come from areas such as Miami, Fort Lauderdale, Tampa, Naples, Orlando, and Jacksonville. His gastric sleeve, gastric bypass, and lap band patients are often looking for high protein, low carbohydrate recipes that are not only easy to prepare, but taste good too. This Fast and Delicious Sauteed Beef and Vegetables is not only packed with protein, but filled with vegetables too.