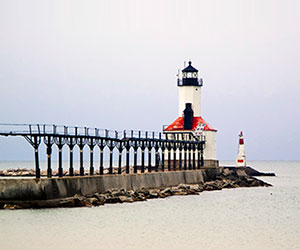 Dr. Shillingford's surgical schedule has recently been populated by patients from Michigan. While Dr. Shillingford often sees patients from around the country, including New York, New Jersey, Ohio, Texas, Georgia, and even Hawaii, having multiple patients come from Michigan was new.
New, but not all that surprising.
Michigan residents have a higher than average rate of obesity. In 2014, according to the CDC, 30.7 percent of Michigan residents were obese compared to a national average of 29.4 percent. Looking at that number more closely, we can see that an estimated 42.6 percent of disabled adults were classified obese, whereas the rate was much lower at 27.9 percent for non-disabled adults. Michiganders who were obese reported a higher prevalence of arthritis, high blood pressure, high cholesterol, asthma, heart disease, stroke, history of heart attack, diabetes, and inadequate sleep than Michigan residents who are not obese. These health conditions related to obesity likely contribute to obese Michiganders' higher prevalence of poor life satisfaction, poor general health, poor physical health, poor mental health, and activity limitations compared to healthier weight adults. Saginaw county, which is to the northwest of Detroit, topped the charts for having the highest rates of obesity in the state of Michigan at 40 percent and one of the highest rates for diabetes.
In addition to high rates of obesity, Michigan also has high prices for bariatric surgery. According to a 2015 survey, the out of pocket cost of gastric sleeve surgery (the most popular form of bariatric surgery performed by Dr. Shillingford) can vary from $9,600 to $26,000 depending on location. While the average cost of gastric sleeve surgery in Michigan is around the middle at $18,430, it is still significantly higher than the $10,500 out of pocket cost offered by Dr. Shillingford. Several of Dr. Shillingford's medical travel patients have reported the cost of their surgery plus travel expenses was still lower than the cost they would have paid locally.
In addition to the benefit of a lower price, patients who travel for surgery also get to choose a doctor based on schooling, skills, experience, and personality instead of finding one whose best quality is that he is nearby. Michigan residents likely appreciate Dr. Shillingford's years attending both undergraduate and medical school at the University of Michigan. However, since completing his schooling in Ann Arbor, Dr. Shillingford also completed his surgical residency at University of Maryland and his fellowship in advanced laparoscopic and obesity surgery at the Cleveland Clinic in Florida. After eight years in private practice performing gastric sleeve, gastric bypass, and gastric band surgery, Dr. Shillingford is still learning and achieving new honors. He is a certified da Vinci robotic surgeon and a Center of Excellence surgeon. Recently, Dr. Shillingford was named Medical Director of Bariatric Surgery at Northwest Medical Center where he performs gastric sleeve, gastric bypass, and lap band surgery in one of the area's only hospitals with a designated Center of Excellence in Bariatric Surgery.
With Dr. Shillingford's education, experience, and comfortable bedside manner, it's easy to see why so many bariatric patients travel out of state to have surgery with him. Because of the large number of his patients who travel for surgery, both Dr. Shillingford and his office staff have become quite adept at handling medical travel patients. If you are considering gastric sleeve, gastric bypass, or lap band surgery and are having a hard time finding a quality surgeon at an affordable price in your area, consider medical travel with Dr. Shillingford. To inquire about which surgery is right for you and to schedule a phone consultation with Dr. Shillingford, please call (561) 483-8840.