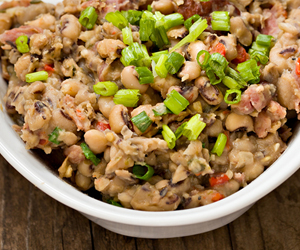 Black eyed peas are a traditional symbol of good luck and fortune as they resemble the shape and size of coins. As such, they are a staple for many households on New Year's Day. Hoppin John is a classic dish of black eyed peas, pork, and rice. While the black eyed peas are low in calories, high in fiber, and even supply a good amount of protein, the traditional white rice served in a Hoppin John is often shunned by gastric sleeve, gastric bypass, and gastric band patients due to its high calorie and carbohydrate content. In this version of a Hoppin John, we offer alternatives to rice for our bariatric patients following their low calorie diets to promote weight loss.
Slimmed Down Hoppin John
Ingredients:
⅓ lb bacon, diced into small pieces
1 celery stalk, diced
1 green pepper, diced
1 onion, diced
2 cloves garlic, minced
½ pound dried black beans (you may substitute canned or froze, but adjust with less liquid)
1 bay leaf
1 tsp dried thyme
1 tsp Cajun seasonings
Salt
3 cups vegetable broth (or chicken broth), more if necessary
1 can diced tomatoes
Directions:
Saute bacon in a pot over medium heat until it begins to get crispy.
Add celery, onions, and peppers and cook until the soften, about 4-5 minutes, stirring often.
Add garlic and saute another 1-2 minutes.
Add peas, seasonings (except salt), tomatoes, and broth. Bring to a boil and simmer covered for 30 minutes to 1 hour, stirring frequently.
Cook until peas are tender, but not mushy. More liquid may be necessary, and some peas do need longer cooking times, so adjust your dish accordingly.
Taste and adjust seasoning with salt, if needed.
Instead of the traditional bed of white rice, we offer our gastric sleeve, gastric bypass, and lap band patients a few alternatives that can be healthier choices to help them reduce the calorie and carbohydrate content of this good luck meal.
A bed of steamed greens (collards, swiss chard, beet greens, or kale would work)
A small portion of barley
Cooked riced cauliflower
Quinoa
Whole wheat couscous
The above suggestion is offered by Dr. Shillingford, M.D., P.A., a board certified surgeon specializing in laparoscopic, robotic, and bariatric surgery.
Dr. Shillingford performs gastric sleeve, gastric bypass, and gastric band surgery at one of South Florida's few hospitals designated as a Center of Excellence for Bariatric Surgery by the American Society for Bariatric Surgery.
Some of his patients come from local areas, such as Miami and Fort Lauderdale, but his reputation and skill also attract patients from as far away as Orlando, Jacksonville, Sarasota, Tampa, Fort Meyers, and Naples.