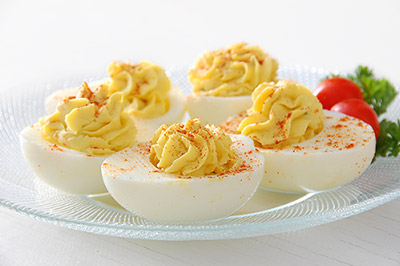 Independence Day is just around the corner and that can mean barbeques and celebrations that often are centered around food. Dr. Shillingford wants his weight loss surgery patients to know that an invitation to a party doesn't have to be an invitation to overeat or to eat foods that aren't a part of their bariatric surgery diet.
Having bariatric friendly food choices available can make it a lot easier for gastric sleeve, gastric bypass, and lap band patients to enjoy a social occasion. If you're not sure what will be available, then a great choice is to bring something you know you can eat. Chances are someone else will also enjoy your high protein, low carbohydrate offering.
We've got a few suggestions, but if you've got a go-to recipe that works for you use that one.
Tomato, mozzarella, and basil skewers
Homemade hummus and fresh veggies
Chicken Satays
Shrimp Skewers
Roasted cauliflower florets
Mini sliders with lettuce and a pickle instead of a bun
Sugar-free gelatin cups
Having a high protein, low carbohydrate option at a party can make it a lot easier to enjoy social gatherings. Also, remember to opt for water instead of drinks with calories or carbonated beverages. Chew your food well. Take your time to eat. Separate your food and liquids. Don't eat foods that are too far advanced for your stage in your post-op bariatric diet (no matter how good they look they won't look as good coming back up). Remember it's ok to politely decline to try a food or a drink. You don't need to explain why if you don't want to. Or if you are comfortable, share your bariatric surgery story with those who are interested and supportive. It's your call. And try to encourage friends to get in some exercise. Toss a football around, play frisbee, go for a walk in a different neighborhood, play tag with the kids, or dance. Be active in some way this holiday.
Dr. Shillingford, MD, PA is a Boca Raton based, board-certified surgeon specializing in bariatric surgery and advanced laparoscopic surgeries, including hernia repair, gallbladder surgery, biopsies, cholecystectomy, appendectomy, and other general surgical procedures. His gastric sleeve, gastric bypass, and gastric band patients receive top-notch care at Northwest Medical Center's Center of Excellence in Bariatric Surgery, where Dr. Shillingford proudly serves as Medical Director. No matter how you spend this fourth of July, Dr. Shillingford encourages you to be safe.