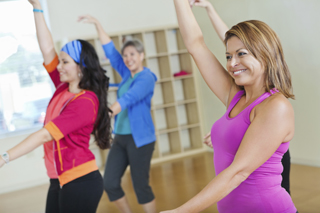 Exercise sometimes feels like work. It can feel like something you have to do, but don't necessarily want to do. If your exercise regime has gotten you in a slump, we've got a list of 5 exercises to try that may feel a little bit more like fun and a little less like work.
Dancing
The choices seem endless: Hula, belly dancing, line dancing, ball room dancing, Hip Hop, ballet, and more. It's good for men and women; with a partner or without. It's a good way to meet people with similar interests. You will learn dance steps and moves that will make you the envy of everyone at the next wedding or special event you attend. And most importantly, it's a fun workout!
Join a Team
Many cities, towns, school districts, employers, and faith based organizations have an organized adult sports teams. It may be baseball, volleyball, basketball, tennis, dodgeball, or bowling. Being part of a team gives you a sense of comradery and gives you a obligation, ensuring you will be at practice and/or games so you don't let your team down.
Martial Arts
Martial arts like judo, karate, jiu jitsu, taekwondo, and others promote increased muscle strength, cardiovascular endurance, balance, flexibility, and speed all while learning skills and building confidence.
Playing video games
Sounds counterintuitive, but some video games can feel like exercise. Some gaming consoles such as Wii, Xbox, and Playstation offer games that can get you moving in the privacy and comfort of your own home. Games like tennis, kung fu, bowling, dancing, skiing, table tennis, archery, and volleyball offer a wide range of interests and ability levels. You could get the whole family involved, play against the console, or connect with other users. Since it's done at home in front of the TV, you may find yourself exercising at different times of the day, or you may even find yourself happily replacing TV time with exercise time.
Geocaching
Geocaching may feel more like treasure hunting than exercise. It is a real world outdoor adventure that gets you hunting for a specific geocache container hidden at a certain location based on GPS coordinates. The hunt is for the treasure (which is often just a logbook or trinket) but the exercise is getting there. Geocaches are located around the world, sometimes at the end of a hike, on a city street, in a park, or underwater.
Exercise is important to maintain a healthy body and mind, and is integral in helping Dr. Shillingford's bariatric patients achieve their weight loss goals. Dr. Shillingford's lap band, gastric sleeve, and gastric bypass patients frequently cite exercise as one of the things that have helped them achieve their weight loss goals, and also something they find easier to do after they have lost weight. Dr. Shillingford's bariatric patients come from all over South Florida including Boca Raton, Wellington, Coral Springs, Fort Lauderdale, and Miami, as well as Orlando, Jupiter, and Jacksonville.