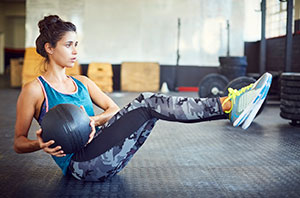 Medicine balls have been around for centuries, yet they are still popular with fitness enthusiasts. Ancient Greeks used to make them out of sand and animal pouches, but these days they're often made out of leather or rubber. These weighted spheres are a versatile and portable exercise tool that can help enhance your post bariatric surgery workout. Make sure you've been cleared to exercise by Dr. Shillingford before beginning any exercise after your gastric sleeve, gastric bypass, or lap band surgery.
Medicine balls are used to help strengthen muscles to increase your power and improve overall athletic ability. By adding the weight of a medicine ball to regular exercises, you can strengthen your muscles faster.
Medicine balls come in different styles and weights, so it's easy to choose one that fits your needs. They are meant to be thrown, tossed, and bounced around, so beginning with a lower weight ball at first is a good choice to avoid injuries.
Adding lean muscle is good for not only improving your power and performance, but it also helps burn more calories when your body is at rest, which helps promote weight loss. For gastric sleeve, gastric bypass, and lap band patients, exercising to promote weight loss is key, but adding lean muscle can also be beneficial.
If you are looking to add a way to strengthen your muscles, try incorporating a medicine ball. They can be added to lunges, squats, push ups, curls, supermans, and so much more.
The above is offered by Dr. Shillingford, M.D., P.A., a board certified surgeon specializing in gastric sleeve, gastric bypass, and lap band surgery. Dr. Shillingford's reputation for excellent surgical skills and comfortable bedside manner attract patients from all over Florida, including Miami, Fort Lauderdale, Boca Raton, Tampa, St. Petersburg, Orlando, and Jacksonville. His bariatric weight loss patients receive top notch care during their hospital stay at Northwest Medical Center's Center for Excellence in Bariatric Surgery, where he serves as Medical Director, and during their follow up care in his Boca Raton office. But, it's up to the patients themselves to incorporate exercise into their daily lives to make the most of their weight loss efforts. Medicine balls can easily be incorporated into exercise routines after you've been cleared to exercise and lift weight.