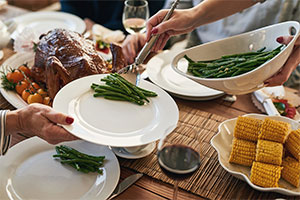 Thanksgiving is upon us and so begins the gauntlet of the holidays. For many Americans, the holiday season is a time of overindulgence and weight gain. But for gastric sleeve, gastric bypass, and gastric band patients, overindulgence and weight gain just don't work into their plans for weight loss and improving their health.
How can bariatric patients enjoy Thanksgiving and the holiday season without falling into the trappings of the season filled with parties among coworkers, neighbors, friends and family? We've got three ideas to help keep Dr. Shillingford's patients on track with their goals this season:
Don't drink your calories- Not drinking your calories should be a rule that gastric sleeve, gastric bypass, and lap band patients follow everyday, but it seems harder to follow during the holidays. The punch may look delicious and refreshing, but it's a simple way to avoid unnecessary calories and the threat of bubbles that may cause you gas or stomach upset. Alcohol is also a huge source of calories for adults during the holidays and it's best for weight loss surgery patients to avoid alcohol altogether. Offering to be the designated driver for the night is a good way to ensure you'll stick to plain or flavored water.
Seek out appropriate foods or bring your own- Holiday parties or get togethers often have a variety of food options available. Look for veggie platters, meat and cheese platters, salad, a carving station, or deviled eggs. If you aren't sure what food options will be available, bring a dish to share that can be your go-to meal if you need to. Many hosts would be happy to have guests bring a dish to share. Mini meatballs, tomato, basil and mozzarella stacks, or egg muffins in a festive flavor.
Don't be guilted into eating something you know you shouldn't- Try to stick to your post bariatric surgery diet as best as you can to avoid potential tolerance issues in addition to weight loss issues. Be prepared to say no. Saying something along the lines of "No, thank you, I'm so full already," or "It looks delicious, but I've already eaten" if you want to avoid having to explain your food choices to other party guests or even the hosts. When dessert is offered, that could be a good time to dance if there's music playing. If you do decide to try a dessert, a taste may be all you need to feel like you aren't being left out without overindulging. If coffee or tea is offered, consider bringing a bag of herbal tea to sip on so you can occupy your hands (and keep them away from the cookies) and give yourself something tasty to end your meal with.
Parties in general can be tricky for gastric sleeve, gastric bypass, and lap band patients. Holiday parties can be even harder because there are often so many of them you feel obligated to attend. If they are a source of stress for you, it's best to go with a game plan. Dr. Shillingford's bariatric surgery patients can use these three tips, in addition some others they may have formulated, can help stay on track with their post bariatric surgery diet and weight loss without feeling like they're being deprived.
Dr. Shillingford, MD, PA, is a Center of Excellence Surgeon specializing in laparoscopic and weight loss surgery. Dr. Shillingford's gastric sleeve, gastric bypass, and lap band patients often come from all over Florida, including Boca Raton, Miami, Tampa, West Palm Beach, Orlando, and Jacksonville. His weight loss surgery patients are often seeking support maintaining their weight loss goals in situations centered around food and eating. For healthy eating ideas, recipes, support and motivation, check out Dr. Shillingford's Facebook page.