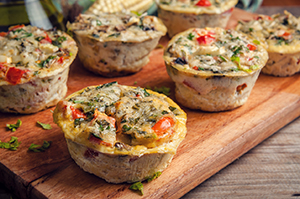 For Dr. Shillingford's gastric sleeve, gastric bypass, and gastric band patients who are looking to cook up some Egg Muffins from this blog post, we thought we'd give you some interesting flavor ideas to keep your taste buds on their toes!
The egg muffins make a good breakfast since they are egg based and high in protein, but really they can be eaten any time of the day which lets you get creative in your flavor profile. Bariatric patients who are at least into Stage 5 of their post op gastric sleeve, gastric bypass, or lap band diet may want to be conservative and only use ingredients they are sure they tolerate well. For surgical weight loss patients who have progressed passed Stage 5 and are more confident in which foods their new stomachs can tolerate, the combinations are seemingly endless.
Flavor Combination Ideas:
Broccoli and Cheddar
Mushroom and Feta
Tomato, Basil, and Mozzarella
Ham, Swiss, and Asparagus
Spinach and Bacon
Red Pepper, Kale, and Sausage
Smoked Salmon and Onion
Asparagus and Ricotta
Artichoke Hearts and Feta
Canadian Bacon and Spinach
Turkey and Collard Greens
Taco meat, Peppers, and Cheddar
Zucchini and Goat Cheese
Mushroom, Leeks, and Ham
Bacon and Tomato
Corned Beef, Cabbage, and Mustard
Chicken and Mushrooms
Crab, Red Pepper, and Onion
Ham and Olive
Cheddar and Green Chilis
The combinations are only limited by your taste and imagination (along with your new stomach). You can make use of leftovers, like roasted chicken or deli ham, or even last night's leftover vegetables. These are great to make ahead and freeze for when you need a quick meal. Having a high protein, vegetable packed meal in your freezer that's easy to defrost is a great idea, especially if you are one who used to fall back on eating out or ordering in. Instead, just grab one or two of these delicious high protein egg muffins to help you stick to your post bariatric surgery diet and maximize your weight loss.
For more information on Dr. Shillingford's post op bariatric diet, check out his diet here. Dr. Shillingford, MD, PA, is a Center of Excellence Surgeon specializing in gastric sleeve, gastric bypass, lap band, and laparoscopic surgeries (hernia repair, gallbladder removal, appendectomy, etc). Dr. Shillingford's bariatric patients often come to his Boca Raton office from close areas like Miami, Fort Lauderdale, and Parkland, but also farther locales like Orlando, Tampa, and Jacksonville. Dr. Shillingford encourages his patients to follow their bariatric diet and focus on proteins, vegetables, and fruits, along with getting sufficient amounts of water in between their meals.