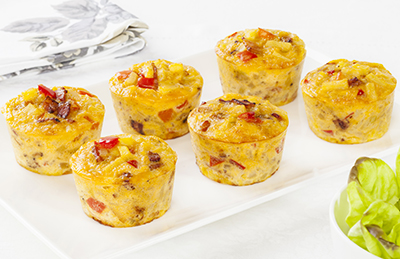 For bariatric patients (gastric sleeve, gastric bypass, or gastric band) having a high protein breakfast is often essential to fitting in your total daily protein needs. But for those trying hard to stick to their post bariatric surgery diet and keep up with their busy lifestyle, cooking breakfast every morning just isn't in the cards.
One way to fill up on protein and vegetables at breakfast is by making it ahead of time. Eggs cooked in muffin tins are the perfect grab and go food for breakfast, lunch, dinner, or even a snack. You can change the ingredients to offer a variety of flavors to keep your meals interesting and also add extra protein.
The basic recipe goes like this:
12 eggs, scrambled
1 tsp seasonings (your choice- a premade blend, or a mixture of onion powder, garlic, salt, pepper, dill, celery seed, cumin, ginger, turmeric, etc)
1 cup shredded cheese
1 cup cooked meat
1 cup soft vegetables (steamed or lightly sauteed)
Directions:
Preheat oven to 375 degrees
Scramble the eggs in a bowl, add seasonings of your choice and mix together
In a silicone muffin tin (or use a regular muffin tin with spray) add your choice of meat and/or cheese
Sprinkle in the vegetables you want
Add the egg mixture to each muffin cup, to about ¾ full
Stir each muffin cup
Bake for 25-35 minutes or until eggs are set
These egg muffins can be stored in the fridge for about 5 days, or freeze a few for a quick meal another time. To reheat you can pop them in the microwave for a short time. That makes it super easy to grab a hot breakfast each day of the workweek!
Starting your day off with a protein and vegetable packed breakfast sets you up for success. And having it within seconds makes it a lot easier to fit in some pre-work exercise (planks, squats, or some cardio). Next, fill up your water bottle, and you can check three boxes of your day's to do list before you've even left the house!
This recipe works for gastric sleeve, gastric bypass, or lap band patients who have successfully tolerated their meals and have progressed at least up to Stage 5 of Dr. Shillingford's post op diet plan. Stage 5 allows for regular textured meals, eggs, and nonstarchy soft vegetables. Dr. Shillingford, MD, PA, is a bariatric surgeon specializing in gastric sleeve, gastric bypass, and lap band, as well as general surgery procedures (hernia repair, gallbladder surgery, appendectomy). Dr. Shillingford offers a monthly Nutrition Support Meeting in his Boca Raton, Florida office to help his weight loss patients ask questions, get information, and discuss ideas with fellow bariatric patients. Call Dr. Shillingford today at (561) 483-8840 to start your weight loss journey today!