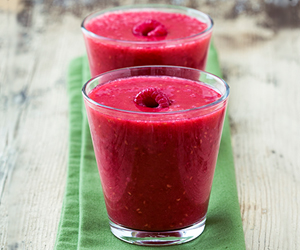 Smoothie bowls have taken social media by storm. They are aesthetically pleasing to the eye (at least that's how Pinterest makes it look). Smoothie bowls vary in ingredients, and can be chock full of healthy nutrients and vitamins. But why on earth would you put a smoothie in a bowl, when you can put it into a cup and slurp it down quickly?
There are a few reasons why you should try this new trend. First, they are loaded with antioxidants and nutrients. And, they help you get in an extra serving of fruit in a tasty and fun way. You can experiment with new combinations every day, so they never get boring for your taste buds. Plus, if you add some greens, like kale or spinach, you can sneak in some extra servings of veggies without having to taste (or see) them! But, these smoothies are thicker than traditional smoothies (and lumpier), so you'll have a hard time slurping them through a straw. Believe me, they will be worth washing the spoon.
They key to smoothie bowls is preparing them with the fruits, veggies, toppings, and proteins you enjoy. They can be an excuse to buy that new yogurt you've been wanting to try or coconut water, or a way to use up the vegetables in your fridge. Whatever the case may be, go out and buy yourself the basics needed for smoothie bowls and look forward to breakfast bowl every morning!
Almond Butter and Raspberry Smoothie Bow
Ingredients:
1 large banana
1 ½ cup raspberries
½ cup soy milk (regular milk or almond milk work too)
½ cup ice
2 Tbsp almond butter (or peanut butter)
1 Tbsp honey (plus additional for drizzling)
5 strawberries, sliced
¼ cup granola
2 Tbsp shredded coconut
Directions:
In a blender, add banana, 1 cup raspberries, soy milk, ice, almond butter, and 1 Tbsp honey until smooth.
Transfer to bowl and top with strawberries, granola, coconut, ½ cup raspberries, and a drizzle of honey.
This is just an example of a smoothie bowl. Don't be afraid to be adventurous and try your own recipe. Just follow these guidelines for a smoothie bowl and make it with your own twist:
Thickening Protein (around 2 Tbsp). This includes: nut butters, tofu, yogurt, beans, and chia seeds soaked in water. Bananas and avocados can double as thickening agents.
Liquid (1/3 cup). Choose from coconut water, milks of any kind (dairy or nondairy), juice, or just plain water.
Fruit (1 cup). Anything goes in this category! Avocados, bananas, berries, peaches, apples, kiwis. Fresh or frozen. You get the point.
Greens (a handful). Some suggestions include kale, spinach, chard, romaine lettuce, arugula, peas.
Toppings (1 tbsp each). You can top your smoothie bowl with fresh fruit slices, nuts, coconut flakes, granola, chocolate chips, cocoa powder, flax seed, chia seeds, pumpkin seeds, etc.
These bowls will keep you full for a few hours and give you enough energy to tackle your hardest task. If you make too much, share with a friend. Once you get the hang of making them, you can play with amounts of ingredients so your bowl is the perfect size for your reduced stomach capacity after your gastric sleeve, gastric bypass, or lap band surgery.
This recipe idea is offered by Dr. Shillingford, M.D., P.A., a board certified surgeon specializing in gastric sleeve, gastric bypass, and adjustable lap band surgery. Dr. Shillingford's bariatric surgery patients are often seeking new and different recipes that incorporate protein and vegetables (even into breakfast). Many of Dr. Shillingford's bariatric patients come from South Florida, including Boca Raton, Delray Beach, West Palm Beach, Miami, and Fort Lauderdale, but also as far away as Cocoa Beach, Jupiter, and Jacksonville.