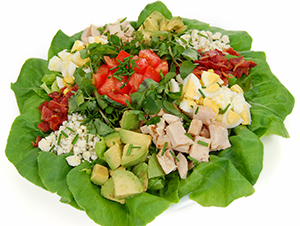 Now that Thanksgiving is officially over, what do you do with all your leftover turkey? While repeating your Thanksgiving dinner is simple and delicious, after a few repetitions, most people are usually ready for some new flavors.
We have gathered 5 ideas for using up your turkey leftovers that will get you back in the swing of your gastric sleeve, gastric bypass, or lap band diet. These dishes are lighter, and should make it easier for our gastric sleeve, gastric bypass, and lap band patients to fill up on the protein of the turkey without feeling weighed down by the bulk of the meal. By adding lots of fresh vegetables and whole grains, these meals will help you use your leftover turkey in a healthy way.
Turkey Cobb Salad
Substitute turkey for the traditional chicken in a Cobb Salad. Add chopped tomatoes, diced avocado, hard boiled eggs, bacon, blue cheese, and your chopped turkey over a bed of lettuce. Garnish with diced onions and chickpeas. Whether this is for lunch or dinner, you definitely won't feel like it's a repeat of your traditional Thanksgiving dinner.
Turkey Waldorf Salad
Combine turkey pieces, mayonnaise (or plain greek yogurt), vinegar, chopped celery, diced green apple, and walnuts into a salad and scoop over a bed of lettuce. The tang of the apples and the crunch of the celery will definitely make this turkey dish take on new and exciting flavors.
Turkey and Avocado Wraps
Using a whole wheat wrap, smear with hummus. Add thinly sliced turkey, diced tomato, red onion slices, shredded lettuce, and diced avocado. Wrap, and enjoy.
Turkey, Barley, and Cranberry Salad
Make quick cooking barley. Mix olive oil, lemon juice, salt and pepper. Combine dressing, turkey chunks, cooled barley, and dried cranberries into a salad, and serve over arugula or romaine lettuce. The cranberries give this dish a seasonal flavor without being overtly Thanksgiving.
Turkey and Lemongrass Soup
To take your leftover turkey in a decidedly different direction, try this soup. Using Thai-ginger infused chicken broth (often easily found in the broth or soup section of grocery stores), add chopped turkey, sliced mushrooms, snow peas, and jalepeño peppers (if desired). Boil until vegetables have the desired tenderness. To add more bulk, you could add brown rice or soba noodles, or top with green onions and cilantro to keep it low carb.
These suggestions are offered by the staff of Dr. Shillingford, M.D., P.A., a board certified surgeon specializing in adjustable lap band, gastric sleeve, and gastric bypass surgeries. Dr. Shillingford's bariatric weight loss practice is located in Boca Raton, Florida and serves patients from all over South Florida including Coral Springs, West Palm Beach, Miami, Wellington, Naples, and Fort Lauderdale. Dr. Shillingford's bariatric patients often ask about ways to reduce calories in their diets, and we hope these food ideas will help our patients quickly resume their weight loss diets.