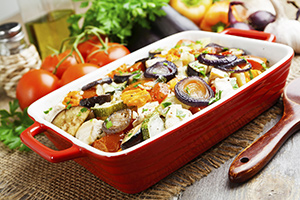 Servings: 6
Ingredients
4 red potatoes, sliced
6 carrots, sliced
1 large sweet onion, quartered
1 chicken, raw, cut into pieces and skin removed
½ cup low sodium chicken broth
¼ tsp pepper
1 tsp poultry seasoning
Directions
Preheat oven to 400 degrees.
Put potatoes, carrots and onions in a large roasting pan.
Put chicken pieces on top of the vegetables.
Mix broth, poultry seasoning and pepper. Pour over chicken and vegetables.
Baste liquid over chicken once or twice during cooking.
Bake for one hour or more until browned and tender.
Enjoy with a side salad.
One pan meals make cooking and cleaning a little easier. With only one dish to check and attend to during cooking, you have a little more time to accomplish some tasks while dinner is cooking. This can be a great time to help your children with homework, catch up on household chores, pay the bills, or exercise while your dinner cooks. With only one roasting pan to clean, you'll spend less time doing the dishes and have more quality time to spend with your family.
This meal idea is offered by Dr. Shillingford, M.D., P.A., a board certified surgeon specializing in laparoscopic and bariatric surgery. Dr. Shillingford's gastric sleeve, gastric bypass, and lap band patients come from all over South Florida, including Hollywood, Fort Lauderdale, West Palm Beach, Boca Raton, Wellington, and Miami. His bariatric patients are often looking for crowd pleasing recipes that are lower in calories but high in taste.