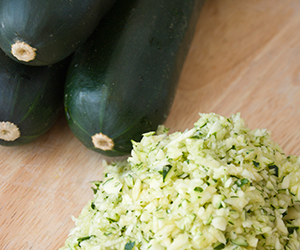 1 large egg or 2 small eggs
3 small-medium zucchinis
1 ½ cups grated parmesan or mozzarella (I usually do half of each) salt
any seasonings you'd like to add (Ex: basil, garlic powder, oregano, red pepper)
*Side note : You want the crust to bind, so you can roll it out into a whole pie. If it's too wet, add some breadcrumbs or more cheese. The more cheese, the crispier it will be. The more zucchini the fluffier it will be.
Directions :
Preheat oven to 450 degrees
Grate zucchini (food processors work great for this part)
Sprinkle salt on the zucchini, stir, and let it sit for a few minutes
Squeeze the water out of the grated zucchini by using a cheesecloth and squeezing or put the zucchini in a colander and use a bowl and to press out the water.
Put zucchini in a large bowl and mix in egg and grated cheese
Spread parchment paper on a pizza stone or baking sheet. This is a must or your crust will stick to whatever surface you cook it on. Spread out your dough until it is ½ inch thick.
Place in oven and cook until it has browned, about 20-25 minutes.
Take out of oven and put on your toppings!
Bake it again until the edges brown further and your cheese and toppings cook.
It is always fun to mix up the toppings of pizza and trying new combinations. If you are trying to stay away from sauce, use a sautéed garlic, basil, and oil base. Sprinkle on some fresh tomatoes and other veggies. Add whatever type of cheese you'd like, or no cheese at all. The crust has so much flavor, you don't even need it! This is an excellent way to get tons of veggies and cut back on carbs and calories.
This recipe idea is offered by Dr. Shillingford, M.D., P.A., a board certified surgeon specializing in gastric sleeve, gastric bypass, and adjustable lap band surgery. Dr. Shillingford's bariatric surgery patients are often seeking low carbohydrate recipes that taste great and can please the whole family. Many of Dr. Shillingford's bariatric patients come from South Florida, including Boca Raton, Delray Beach, West Palm Beach, Miami, and Fort Lauderdale, but also as far away as Cocoa Beach, Jupiter, and Jacksonville.