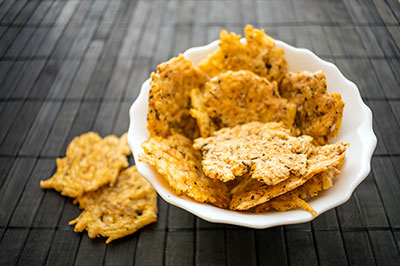 Bariatric patients are encouraged to eat their protein first. With a goal of 60-80 grams of protein, gastric sleeve, gastric bypass, and gastric band patients have to pay attention to what they are eating to ensure that they are meeting their protein goal (without exceeding their carbohydrate goal). This means that protein is the priority, then vegetables and fruit, then starchy carbohydrates only after one year or 75% of excess weight loss is achieved. So even snacks should be chock full of protein.
Cheese can make a good snack. It's a good source of protein, has calcium, magnesium, zinc, and vitamins A, D, and K. There are a wide variety of cheeses to suit different tastes, and you can easily cut it into slices or cubes for a quick and easy snack.
Another way to enjoy cheese, or parmesan in particular, is to bake it into a crisp. This snack should only be considered for those bariatric patients who are able to tolerate regular consistency foods well. For those still in the early stages after weight loss surgery, sticking with regular cheese is a better choice as the cheese dries out when it is baked.
Parmesan Crisps
1 cup shredded parmesan (not grated)
1 tsp dried spices (try a mix of basil, onion powder, garlic powder, pepper, and paprika)
Directions:
Preheat oven to 350 degrees
Line a sheet pan with parchment paper
Use a spoon to make small piles of shredded parmesan cheese
Sprinkle a bit of your spice mixture in the middle of each pile
Bake for 5-7 minutes or until the edges get brown and crispy
For more high protein recipes, scroll through Dr. Shillingford's blog posts. Dr. Shillingford, MD, PA is a board-certified surgeon specializing in advanced laparoscopic and weight loss surgery. His gastric sleeve, gastric bypass, and lap band patients come to his Boca Raton office from nearby locations like Delray Beach, Coral Springs, Miami, Fort Lauderdale, and also from further away like Orlando, Tampa, and Jacksonville. For more information on gastric sleeve, gastric bypass, and lap band surgery as a solution for obesity and permanent weight loss, call Dr. Shillingford's office today at (561) 483-8840.