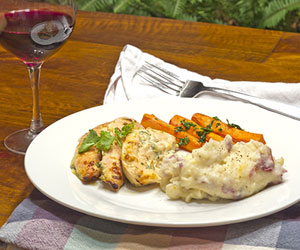 There seems to be an infinite number of chicken recipes on the internet, and for good reason. Chicken is inexpensive, has a mild flavor that a majority of adults and children enjoy, and is usually readily available at the store. But, for gastric sleeve, gastric bypass, and lap band patients, chicken is also one of the most easily tolerated meats following bariatric surgery.
The beauty of this recipe is that is quick, easy, and you likely will have everything you need on hand. What's more is that it tastes good and makes a juicy, not dry chicken. By incorporating plain greek yogurt, you also get an extra dose of protein, which is important for bariatric patients who struggle to meet their daily protein requirements.
For gastric sleeve, gastric bypass, or lap band patients who eat meals with a partner who doesn't follow a lower calorie or bariatric diet for weight loss, this chicken dish can easily work for both. You can adjust your side dishes to either reduce or add to your calories and carbohydrates as needed, but the chicken is versatile enough to work with either meal. Dr. Shillingford's weight loss surgery patients can stick to small portions of lower carbohydrate sides (such as tomato and avocado salad, grilled asparagus, or even a small baked sweet potato) to make a satisfying and delicious dinner that can easily fit into a post bariatric surgery lifestyle.
2 skinless, boneless chicken breasts
½ cup plain greek yogurt
¼ cup grated Parmesan cheese
½ tsp garlic powder
¼ tsp onion powder
Salt and pepper to taste
Directions:
1. Mix yogurt, parmesan cheese, and spices in a bowl.
2. Place the chicken breasts in a pan.
3. Divide the mixture evenly and spread on top of each chicken breast.
4. Bake at 375 degrees for about 45 minutes or until cooked thoroughly.
Dr. Shillingford, M.D., P.A., a board certified surgeon specializing in laparoscopic, robotic, and bariatric surgery. Dr. Shillingford performs gastric sleeve, gastric bypass, and gastric band surgery at one of South Florida's few hospitals designated as a Center of Excellence for Bariatric Surgery by the American Society for Bariatric Surgery. Some of his patients come from local areas, such as Miami and Fort Lauderdale, but his reputation and skill also attract patients from as far away as Orlando, Jacksonville, Sarasota, Tampa, Fort Meyers, and Naples. His weight loss surgery patients are often seeking advice on how to get enough protein after bariatric surgery.