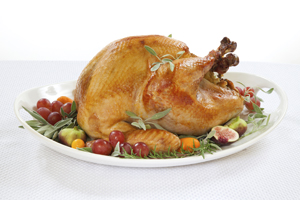 The giblets and neck from a turkey make a great flavorful stock that helps ensure a rich, tasty gravy, but you may substitute more chicken broth if you prefer.
Ingredients
Giblets and neck from turkey
6 cups water
2-3 cups reduced-sodium chicken broth, divided
1/4 cup all-purpose flour
3/4 cup deglazing liquid, such as white wine, vermouth or brandy
1 tablespoon minced fresh herbs, (optional)
Salt, to taste
freshly ground pepper, to taste
Preparation
To make giblet stock: Place giblets (except liver), neck and water in a large saucepan. (Reserve the liver for another use or discard.) Bring to a boil over high heat. Reduce heat and simmer, skimming and discarding any foam, for 1 hour. Strain through a fine-mesh sieve.
To make gravy: After removing the turkey from the roasting pan, pour any pan juices and fat into a large glass measuring cup and place in the freezer so the fat rises to the top, about 10 minutes. Skim the fat off with a spoon and discard. (Alternatively, pour the pan juices and fat into a fat separator then pour the defatted juices into a large measuring cup.) Add any accumulated juices from the resting turkey to the defatted pan juices; add the reserved giblet stock plus enough chicken broth so the combined liquids measure 5 cups total.
Whisk 1/2 cup chicken broth and flour in a small bowl until smooth.
Set the roasting pan over two burners on medium-high heat. Add deglazing liquid; bring to a boil and cook, scraping up the browned bits from the pan, until the liquid is reduced, about 3 minutes. Add the 5 cups of liquid from Step 2. Increase the heat to high and return to a boil, whisking often and scraping up any remaining browned bits. Boil until reduced to 2 3/4 cups, 8 to 12 minutes. Whisk the reserved broth-and-flour mixture into the roasting pan. Boil, whisking constantly, for 2 to 3 minutes. Remove from the heat and pour the gravy through a fine sieve into a large measuring cup. Stir in herbs, if using. Taste and season with salt (if needed) and pepper.
Nutrition
Per 3-tablespoon serving : 34 Calories; 2 g Fat; 1 g Sat; 1 g Mono; 2 mg Cholesterol; 2 g Carbohydrates; 1 g Protein; 0 g Fiber; 56 mg Sodium; 11 mg Potassium
Dr. Kahlil Shillingford's office is located in Boca Raton, FL and surrounding areas including Ft. Lauderdale, Miami, Port St. Lucie, Tampa, Orlando, Daytona Beach. Please contact Dr. Shillingford at (561) 483-8840 to schedule your free bariatric consultation.