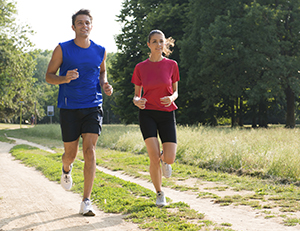 Many people run, jog, or walk to help them lose weight, get healthy and fit, to get fresh air, to improve their cardiovascular health, and to strengthen their muscles. For gastric sleeve, gastric bypass, and lap band patients who have taken up running, jogging, or walking to improve their health, consider signing up for a 5K race. Many gastric sleeve, gastric bypass, and lap band patients may have never considered participating in a 5K or may have never thought it imaginable. But with commitment and practice, participating in a 5K can be possible. Being able to tackle 3.1 miles may seem like a hurdle now, but it may bring big rewards. The first benefit would be the exercise, training, and possible weight loss, but the perks of doing a 5K may go far beyond that.
Here we list some more potential benefits to signing up for a 5K:
You can run, walk, or jog, or any combination you want to finish it. This makes completing the 3.1 miles very doable for people regardless of their weight, running experience, or skill.
Telling friends and family that you've signed up for a 5K can be a good way to find an exercise buddy. You may be able to recruit a friend, family member, or coworker to run it with you, or may be able to find someone who would like to train with you and help you succeed.
Once you've picked a date you will have to practice to make sure you're ready. This may give you some accountability for your training schedule and you may be less likely to skip your exercise regime. This may help give you a commitment to exercise and aid in your post bariatric surgery weight loss.
Having a goal to work toward gives you motivation to train hard to be ready. You'll want to make sure you can complete the 3.1 miles, so you may be motivated to run, walk, or jog it several times.
Many 5Ks support a worthwhile cause (Down Syndrome, Breast Cancer, Wounded Warriors, etc), so be prepared to feel proud for supporting the cause of your choice.
There are fun 5Ks (Zombie runs, color runs, obstacle courses), so it doesn't have seem like all work. You could have some fun or get dirty while you get fit.
By crossing the finish line, regardless of how long you take to do it, you'll have accomplished something satisfying and commendable. It doesn't have to be about beating people in a race, it can be about defeating your self doubts and doing something you may not have thought was possible.
As far as races go, a 5K is not very time consuming. Unlike a marathon, a 5K can usually be completed in under an hour.
After you've completed your first 5K, you can be proud say you've done something not many people do.
Take a picture of yourself so you can always be reminded of how you felt after crossing the finish line. Look at that picture when you need a boost in your confidence or a reminder of how much you can accomplish when you set your mind and body to it.
The above is offered by Dr. Shillingford, M.D., P.A., a board certified surgeon specializing in gastric sleeve, gastric bypass, and lap band bariatric weight loss surgeries. Dr. Shillingford's Boca Raton office serves patients from all over South Florida, including Delray Beach, Wellington, Palm Beach, Pompano Beach, Miami, and Fort Lauderdale. South Florida is a great place for a 5K due to the mild winter weather, so check with local towns for a list of 5K runs. Make sure you've been cleared to exercise before you consider signing up and training. If running is new to you, look online for resources to help you safely prepare for a 5K.