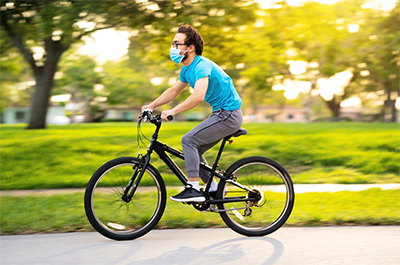 The months between January and May attract tourists from all around the country and the world to Florida every year. Families flock to Disney World in Orlando, retirees vacation in Fort Lauderdale, the Palm Beach, and Miami, and hundreds of young people spend their spring break along the sandy beaches of Tampa Bay, Naples, and Sarasota. During this busy time, spending time outside means walking through crowds, in fact, it can be difficult to find a corner in Florida that offers a peaceful non-congested atmosphere.
Fortunately, with the diversity in natural landscapes South Florida has to offer, it is always possible to leave the chaos behind and do something off the beaten path. One such example is a scenic bike ride up and down the A1A highway. A1A runs along East Florida and offers a beautiful view of the Altlantic Ocean from Aventura to Cape Canaveral. This unique road offers an opportunity to spend time outside and get active (jogging, walking, biking, etc.) while enjoy breath-taking scenery and spending time with loved ones.
Bariatric surgery (Gastric Bypass, Gastric/Lap-Band, Gastric Sleeve/Sleeve Gastrectomy) is part of an all-encompassing treatment for obesity that should be supported by a sensible diet, emotional support, and exercise. When all factors are addressed, it has proven to offer life-changing results for thousands of patients and their families. Dr. Shillingford encourages you to find leisurely activities such as bike riding along the beach to support your weight loss efforts this snowbird season!
Dr. Kahlil Shillingford is a board certified surgeon who specializes in bariatric or weight loss surgery including the Sleeve Gastrectomy (Gastric Sleeve), Gastric Bypass, and Lap-Band procedures. His patients come from across the state of Florida including Naples, Sarasota, Tampa Bay, Fort Lauderdale, Palm Beach,Miami, Orlando, Aventura, and Cape Canaveral. To learn more about Dr. Shillingford's integrative weight loss surgeries and all-inclusive fees please call his office in Boca Raton, Florida
at (561) 483-8840.