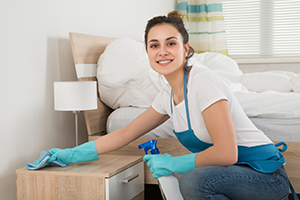 Many people don't really like exercise. Some of those people have had bariatric surgery. But, as gastric sleeve, gastric bypass, and lap band patients know, exercise is absolutely critical to reaching your weight loss goal after bariatric surgery. It has to be done.
For those who are looking to burn calories without going to a gym, or those looking to burn additional calories after their workout, you still have some options. Burning calories doesn't always have to be done in workout clothes or at the gym. We've got five ideas for fun or functional ways to burn calories that won't feel like exercise.
Cleaning the house- This one isn't really fun, but it is functional. Cleaning your house or apartment can burn calories that can rival a gym class. All of that vacuuming, dusting, wiping, cleaning, scrubbing, lifting, stretching, reaching, and walking can add up to burning over 300 calories an hour. And your house gets clean. An absolute win-win situation.
Mowing the lawn- This one gets a little tricky in the summer in Florida, but it can be done if you can get the shade and timing right. Mowing your own lawn can also burn up to 330 calories per hour. It does require equipment (at least a push mower and maybe even an edger), but in the end it can also save you from paying a monthly fee and help you lose weight too.
Gardening- This one can be both fun and functional. If you like to garden, you may be happy to know that all of that weeding, pruning, watering, trimming, and hauling can add up to over 330 calories per hour. In addition to helping you trim your waist, you can also grow fruits and vegetables, and improve the curb appeal of your home.
Washing your car- In South Florida, it seems that everyone has a nice car and they are always clean. It takes work to make it that way, and you can use that to your weight loss advantage. Washing, rinsing, and vacuuming your car yourself can lead to not only burning over 300 calories an hour, but also contribute to weight loss, and improve your self esteem as you feel good not only for accomplishing something, but for actually having a shiny, clean car to ride in.
Dancing- So we've saved the most fun for last. Going out and dancing (or having a living room dance party) can burn over 400 calories an hour. Not only will it burn calories, but it will also help engage your core and help tone your muscles. If you go out to dance, just make sure you don't drink your calories, stick with water to keep hydrated.
Weight loss can be hard, even after gastric sleeve, gastric bypass, or gastric band surgery. But, it can also be fun and help you accomplish tasks like cleaning your house, keeping your car shiny and clean, improving the curb appeal of your house, and getting out and having some fun. Just make sure you've been cleared to exercise by Dr. Shillingford before starting an exercise program, including those above.
This information is offered by Dr. Shillingford, M.D., P.A., a Center of Excellence Surgeon specializing in gastric sleeve, gastric bypass, and gastric band surgery. Dr. Shillingford's reputation for excellent surgical skills and comfortable bedside manner attract patients from all over Florida, including Miami, Naples, West Palm Beach, Orlando, and Jacksonville. His bariatric weight loss patients receive top notch care during their hospital stay at Northwest Medical Center's Center for Excellence in Bariatric Surgery, where he serves as Medical Director, and during their follow up care in his Boca Raton office.