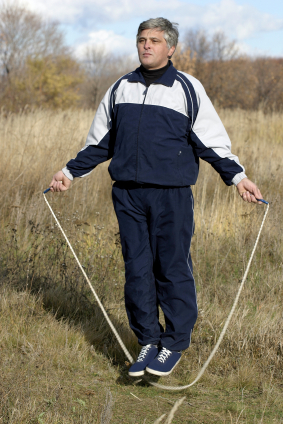 Exercise is a key factor in weight loss. This is true for gastric sleeve, gastric bypass, and lap band patients also. As most weight loss surgery patients know, having bariatric surgery is not a magic weight solution, but a tool to help promote weight loss and keep it off. In order to maximize weight loss, exercise is crucial.
But for many people, going to a gym to workout can seem even more daunting than going to the hospital for surgery. Not knowing the rules and normal customs of the gym can make it seem like gym-goers are speaking a foreign language. And jumping into a class when you don't know what you're doing can be too much for many people to overcome. For those who still want to exercise and get a cardio workout without the overhead of dealing with a gym, exercising at home can be a good option. Let's review 3 exercises you can do at home to help you lose weight after gastric sleeve, gastric bypass, and gastric band surgery.
1. Jumping Jacks
You probably remember jumping jacks from high school gym class, but in case you've blocked those memories, here's how it's done: stand with your arms at your sides and your feet a few inches apart, jump your feet wide while you bring your arms wide over your head, then bring your arms back to your sides while jumping your feet back to neutral. This exercise may seem simple, but can burn 100 calories in 10 minutes with no special equipment needed besides a good pair of sneakers and a sturdy floor. Jumping jacks can also be a good addition to other cardio and strength training workouts. If you want to make them harder, you can add a medicine ball or add in a push up.
2. Jumping Rope
Another throwback to childhood, jumping rope may be a little more fun than jumping jacks. All you need is a jump rope with handles, sneakers, patiences, and a lot of practice. Well, you probably need a lot of space as well, so a well cleared room could do or your backyard may be another good option. It may look easy, but jumping rope can be tricky. For best results, try to turn the rope with your wrists not your arms, jump only high enough to clear the rope, and try to land softly. With consistent practice, you can be burning about 110 calories in 10 minutes. To make jumping rope a little more fun, try chanting funny rhymes or sing your favorite song. When you get really good at jumping rope, you can try jumping on one foot, double turning the rope, and bringing your knees up really high.
3. Burpees
You either love them or hate them, but burpees are a great choice for exercising at home. They can be a tough cardio workout, burning over 100 calories in 10 minutes if you can last that long. Two sets of 5 minutes may be more attainable goal, or at first you may opt for 5 sets of two minutes worth of these cardio killers. For those who have never done a burpee before, follow these guidelines: stand up tall with your hands at your sides, squat to the floor, jump your feet back to a plank position, jump your feet back, the jump up in the air and return to a standing position before doing it all over again. It would be a good idea to watch a video clip before attempting it yourself. It is essential that you get medical clearance before exercising after gastric sleeve, gastric bypass, or lap band surgery. After you've been medically cleared, the key to exercising at home is consistency and proper form. Make sure you are doing the exercises properly to avoid injury. Choosing an exercise schedule and sticking to it is critically important. Find what you like and incorporate those exercises because exercise doesn't help if you don't actually do it.
These three exercise suggestions are offered by Dr. Shillingford, MD, PA, a board certified surgeon specializing in gastric sleeve, gastric bypass, and gastric band surgery. Dr. Shillingford is a Center of Excellence Surgeon who is also certified in da Vinci robotic assisted surgery. Dr. Shillingford encourages his gastric sleeve, gastric bypass, and lap band patients to incorporate exercise into their post bariatric surgery lifestyle in order to maximize their weight loss and improve their muscle tone, balance and coordination, improve their blood pressure and blood sugar control, and encourage feelings of mental and physical well being.