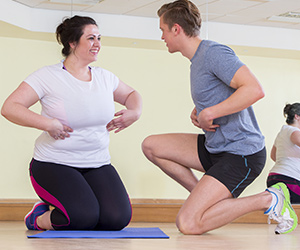 Many people make exercise and fitness a priority in January, often as part of a New Year's Resolution. Gyms and exercise classes usually see an influx of people in January, which tapers off soon after.
How can you keep up your new or improved exercise routines? We have a few tips to keep your exercise goals on track for the new year. Exercise is often the one of the first things bariatric patients say helped them lose weight after their gastric sleeve, lap band, or gastric bypass surgery. Exercise helps build lean muscle, strengthens your heart, helps improve blood sugar levels, and promotes weight loss. But, you have to do it for it to work. Read our tips to help motivate you to keep on moving!
1. Be Realistic
The most important thing is to set realistic, attainable goals for yourself. If you start out by saying you'll exercise twice a day every day, you likely won't be able to stick to your goals. Look at your schedule and plan realistically. Where can you fit exercise in? Does it work better in the morning or evening? Are you more likely to go to a class, exercise in your home, or outside with a buddy? Whatever you are most likely to do is what you should plan. Additionally, resolving to never eat your favorite food again is something you're not likely to stick with. Be honest with yourself and plan on reducing your intake of your favorite dish rather than forgoing it altogether.
2. Plan Ahead
Check when the class you want to take is on the schedule. Don't wait for the last minute to sign up only to be disappointed that your favorite fitness class is full. Don't plan on going running if it's going to rain. Check the weather and have an alternate activity planned. Maybe do yoga using your computer instead. Confirm your exercise date with your buddy so you're not thrown off by a change in their schedule. You want to set yourself up for success, so plan ahead to minimize failure.
3. Make a Pros and Cons List
If you know you are likely to convince yourself to cancel your exercise plans, create a pros versus cons list. Write down the pros and the cons to exercise. Take the list out when you are tempted to cancel your exercise. Seeing it in writing may help convince you to stick to your desired plan.
4. Talk About It
Talk to family, friends, or coworkers about your exercise plans. Some may want to join you. Some may ask you how it's going and their asking may remind you of your commitment to exercise. If people important to you know you are committed to exercise and improving your health, you may feel more likely to keep on track so you don't let them or yourself down.
5. Don't Kick Yourself When You're Down
We all have bad days. If you can't gather the emotional or physical muster to exercise as planned, don't kick yourself for it. This happens especially if we've been sick. It can feel like your progress has been wiped out and you're back at square one. Just take one day at a time and do the best you can do because even minimal activity is better than no activity.
6. Stick To It
Experts say it takes 21 days for a new activity to become a habit, and six months to become part of your personality. Stick to it and make it a habit. Once it's become part of your personality, you won't have to work so hard to be committed, it will feel more natural for you.
7. Don't Be Afraid to Change
If you don't like the activity you chose, don't be afraid to change it up. Kickboxing not your cup of tea? Try barre instead. Running too hard on your knees? Try biking. Don't like group exercise, rent a workout video from the library and try exercising at home. Changing your form of exercise is much better than giving it up altogether.
8. Reward Yourself
Set short and long term goals for yourself and reward yourself when you meet them. It doesn't have to be based on your weight loss. Remember lean muscles weighs more than fat, so you may be improving your health even if the scale doesn't move. You can set goals of how many times you've exercised, or how far you can run without stopping. Just don't reward yourself with food. Studies show that non-food rewards can activate the pleasure and motivation areas fo our brains. It could be buying a lottery ticket, seeing a movie, buying new running sneakers, or getting a massage. Whatever motivates you to stick to your goals and make exercise part of your life is worth it because you are worth it!
These tips are provided by the Boca Raton Florida office of Dr. Shillingford, MD, a board certified surgeon specializing in advanced laparoscopic and obesity surgery. Dr. Shillingford is committed to helping his lap band, gastric bypass, and gastric sleeve patients improve their health. His surgical weight loss patients often seek advice on how to improve their fitness levels and help reach their weight loss goals both before and after lap band, sleeve gastrectomy, and gastric bypass surgeries.